21 Ways to Experience Warren County in 2021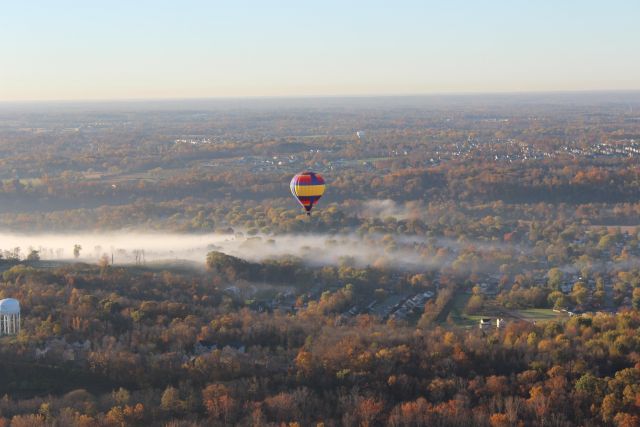 Blog by Scott Hutchinson

Let's face it, folks – that whole 2020 thing didn't exactly go as planned. Fortunately, though, a brand new year is finally upon us, and with a little bit of luck the days, weeks and months ahead should be better, brighter and MUCH more fun.

For those of us with the travel bug, this encouraging new year could also mark a long-awaited return to vacationing, to adventure, to fresh surroundings and to new, exciting experiences.

Hoping to work some Warren County fun into your plans this year?
Here are 21 awesome ways to experience Ohio's Largest Playground in 2021!

Note: Due to the COVID-19 pandemic, some attractions mentioned below may be closed, operating under limited hours, or implementing special precautions at the time of your visit. Please visit each individual attraction's web site or call ahead for the latest information.
1) Conquer Orion
Recently ranked No. 1 on USA Today's list of Best New Theme Park Attractions, Kings Island's newest record-crushing coaster tops this list as well. If you didn't get a chance to ride the 300-foot steel giant during its shortened debut season in 2020, make this the year!
2) Discover the wonder of luxury camping
It's not often "luxury" and "camping" get squeezed into the same sentence, but that's the whole idea behind one of Warren County's newest and most unique accommodations - Camp Cedar. Opening in the spring of 2021, this state-of-the-art establishment treats guests to a truly urban camping experience, complete with pools, restaurants, shops and cozy cottages – all just minutes from Kings Island!
3) Paddle – or pedal – the Little Miami
Fresh-air fun saw a big-time boom all across the world in 2020, but outdoor adventure has always been in style here in Southwest Ohio! If you're hoping to explore even more of the great outdoors in 2021, there are few cooler ways to do it than with a scenic (and socially-distanced) kayak, canoe or bike trip along the gorgeous Little Miami River.
4) Have a blast in the past
Home to one of the nation's most incredible Native American heritage sites, rich Underground Railroad connections, Ohio's oldest hotel and restaurant, and a wonderful array of local museums, Ohio's Largest Playground is also one of Ohio's best bets for history buffs in 2021.
5) Forage for fossils
Can't choose between outdoorsy fun and historical highlights? Who said you had to?! Caesar Creek State Park not only treats visitors to a beautiful recreational lake and miles of scenic hiking trails – it's also rich with geological history and ranks among the Midwest's best fossil hunting sites. Check it out this year!
6) Hunt for antique treasures
Don't want to dig through the dirt? Maybe perusing aisles is more your style. Home to more than 100 locally owned antique and specialty shops, Ohio's Largest Playground is also the perfect place to plan a 2021 small-town shopping spree.
7) Savor local flavors
If you're tired of the same old take-out spots (and who isn't these days?), Warren County's diverse and delicious local dining scene could be just the thing to break you out of your boring food funk in 2021.
8) Say cheers with local beers (and wine…and mead!)
The craft brew craze is here to stay, and that's especially the case here in Southwest Ohio. Now home to seven local breweries, two wineries and even a quirky little small-town mead producer, Warren County belongs on any drink connoisseur's '21 bucket list.
9) Splash through Soak City
In the heat of the summer, there's no cooler place to play than Kings Island's Soak City! While its wild water slides, pummeling wave pools and white, sandy beaches are all incredible, perhaps its biggest perk is that it's also included in the price of your general Kings Island admission. That's a perfect one-two punch of summertime fun for '21!
10) Have a howlin' good time
It doesn't have to be summer to splish, splash, slide and dive in Warren County. Great Wolf Lodge's enormous indoor water park is always 84 degrees no matter the season, and the rest of the resort's wilderness-inspired amenities are equally awesome! Book a 2021 stay and see for yourself.
11) Laz' the day away
Speaking of epic indoor adventures, Lazer Kraze offers endless hours of high-energy, family-friendly fun, including a massive state-of-the-art laser tag arena, an indoor trampoline park, an enormous arcade and a mind-blowing virtual reality experience. We all need to blow off some steam this year, and Lazer Kraze is the perfect place to do it!
12) Soar through the skies
Want to see things from a new perspective in 2021? Warren County's got you covered! Book a breathtaking aerial ride on a historic bi-plane at the Red Stewart Airfield, fly high above the midwestern wilderness at Ozone Zipline Adventures or float up, up and away with Gentle Breeze Hot Air Balloons.
13) Take a ride on the rails
Not exactly one for heights? Not a problem. You can still capture beautiful views of Warren County's small-town cities and scenic countryside by climbing aboard Lebanon's historic LM&M Railroad!
14) Cheer on sports superstars
One of the world's premier professional tennis events, Warren County's beloved Western & Southern Open was moved to New York and played without fans in 2020, marking the first time in the tournament's celebrated history it wasn't hosted in Southwest Ohio. That won't be the case in '21, though, as the fan-favorite tourney is set to come back home to Ohio's Largest Playground this August!
15) Hit the Jackpot
Couldn't we all use a little luck this year? Whether you visit for its 1,900 state-of-the-art slot machines, its impressive collection of drink and dining options, its live harness racing or just to get a Lucky Buckeye, Lebanon's Miami Valley Gaming is as sure a bet as any for big-time fun in 2021.
16) Sing your heart out
2020 sure didn't give us much to sing about, but with a little luck we'll all be showing off our lovely voices again soon! If you're a music or theater lover, be sure to add La Comedia Dinner Theatre, Lebanon's Country Music Festival and the Lebanon Blues Festival to your 2021 to-do list
17) Fill up at fall festivals
Here in Warren County, fall means festivals – and festivals mean food! The renowned Ohio Sauerkraut Festival, Lebanon's Country AppleFest and more food-centric celebrations are back on track for 2021, and your taste buds won't want to miss them!
18) Experience the king of fall fests
Forced to sheath its swords and close its gates due to COVID-19 restrictions in 2020, the legendary Ohio Renaissance Festival is set to welcome back guests this fall. Deemed one of the best renaissance celebrations in the entire nation by Travel Channel, this beloved, medieval affair is truly an autumn event unlike any other.
19) Scare yourself silly
Want to face your fears in 2021? Plan an October outing to Ohio's Largest Playground and prepare to be scared! Kings Island's Halloween Haunt, Brimstone Haunt and more eerie attractions will be scaring up fun all autumn long! Oh, and if you're searching for the real deal, Warren County's Village of Waynesville is widely considered one of the most haunted towns in America. Head there, if you dare.
20) Escape the holiday hustle
Lebanon's heartwarming Horse-Drawn Carriage Parade, the LM&M Railroad's Holiday Express, Morrow's award-winning Christmas Ranch, Kings Island's WinterFest, Christmas in Springboro and more charming holiday highlights are sure to once again make Ohio's Largest Playground the perfect place for a wintry escape in 2021.
21) Remind yourself of the joys of traveling
Wherever and whenever you decide to travel this year, be sure to soak it all in! Traveling is truly one of life's greatest joys, and in 2020 we were all reminded of that more than ever. Should a Midwest adventure find its way into your 2021 plans, know that an awesome getaway - not far away - awaits in Warren County!