4 Reasons You Can't Miss Celtic Fest Ohio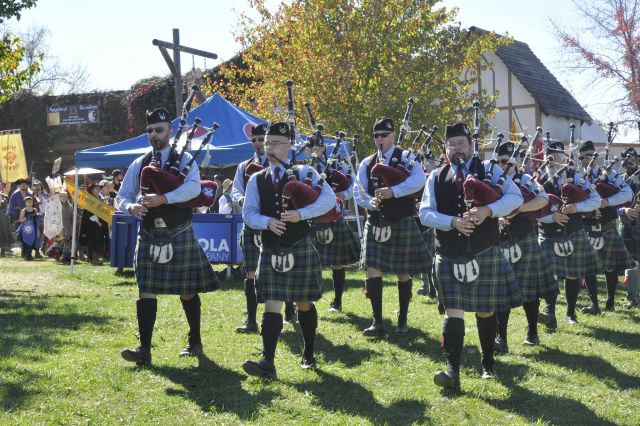 Blog by Stacha Yundt
Each June bagpipes echo through the air of northern Warren County signaling the start of one of Southwest Ohio's favorite summer celebrations - Celtic Fest Ohio.

Held on the always action-packed grounds of Renaissance Park, this awesome one-day affair is in many ways a preview of its iconic sister celebration (autumn's Ohio Renaissance Festival), but truly a can't-miss experience in its own right.

Break out your kilt and brush up on the bagpipes. Here are just a handful of the many, many reasons you won't want to miss Celtic Fest Ohio!
1) The Food

Celtic Fest more than delivers when it comes to chowing down. Renaissance Park is perhaps best known for its famous turkey legs, which can be found at the Aleing Knight Pub along with fish and chips, Scotch eggs, banger sandwiches, and more. DaVinci's Pizza, 1572 Roadhouse Bar-B-Q, and New World Knoll all serve up awesome eats and good times too, as do a number of other pubs and beverage gazebos scattered throughout the grounds.
2) The Live Entertainment
Renaissance Park is home to huge array of performance stages and at Celtic Fest Ohio every one of them hosts awesome live acts all day long. This year's festival lineup includes performances by Albannach, Father Son and Friends, Jameson's Folly and Poor Man's Gambit. Bagpipe shows are (of course) also on the bill, as are educational sessions on Scottish and Irish heritage and other interactive workshops. The always popular Highland Games - hosted in the same area as the Ohio Renaissance Festival's legendary jousts - are a can't miss as well! A full schedule of the day's performances is available on CelticFestOhio.com.
3) The Ways to Play
Want to make your day at the fest even more memorable? Sign up for the Shamrock Shenanigans game and work your way through the festival solving riddles and rhymes to complete a scavenger hunt. Better yet (for guests who prefer whiskey or beer over riddles and treasure hunts), tickets can be purchased online for whiskey tasting and Guinness etching events! For the kids in your crew, massive mazes, slides and even petting zoos (with wolfhounds and Irish setters!) add even more excitement to the afternoon.
4) The Shopping
No visit to Celtic Fest is complete without a little souvenir shopping! Vendors throughout Renaissance Park peddle everything from elaborate costumes and clothing to handmade art and jewelry pieces. Festival guests can easily spend hours exploring everything the vendors have to offer (and I'd highly recommend it). Some of this year's festival vendors include Classic Irish Imports, Harp and Hound Jewelry, Dragon's Head Forge and many, many more.

Celtic Fest Ohio 2023 is June 17!