6 Burger Spots You'll Flip For in Warren County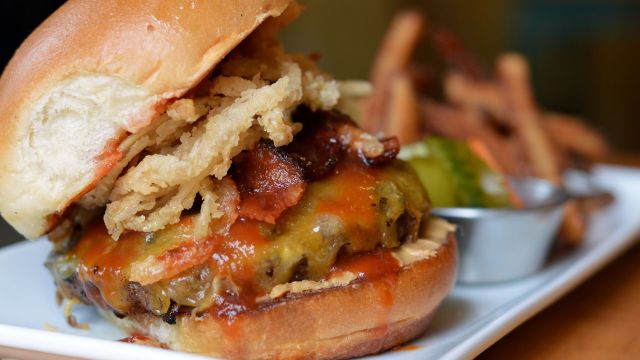 Blog by Scott Hutchinson

When it comes to dining, nothing says summer quite like a sizzling burger fresh off the grill.
When it comes to vacationing, though, cooking for yourself just doesn't do the trick.

Fortunately for those hoping to beef up their lunch or dinner plans here in Warren County, burger spots abound in Ohio's Largest Playground!

Wondering where to head when that burger craving hits?

While it'd be hard to go wrong with any of our awesome eateries, locals ranked these six burger-serving standbys among their favorites in this year's Best of Warren County Awards:
The Golden Lamb
Ohio's oldest hotel and restaurant, the legendary Golden Lamb boasts incredible history, beautiful décor and a delicious and ever-changing burger menu you won't want to miss! Among its most popular picks is the Sticky Burger - topped with house-made peanut butter, bacon, barbecue sauce, sharp cheddar, garlic aioli and crispy onions.
Broadway Barrel House
Lebanon's Broadway Barrel House opened in 2016 and immediately became a popular pick for its family-friendly atmosphere, huge rotating beer list and jam-packed food menu headlined by hand-crafted burgers. While all eight of its burger varieties hit the spot, its Swiss & Shroom and Western are especially awesome.

The Village Parlor
While ice cream may be the most popular menu item at this nostalgic local hangout, The Village Parlor's quarter-pound and half-pound burgers have also kept its hungry customers coming back since 1969!
The Breakfast Club
Don't let the name fool you...The Breakfast Club does lunch too - and it does it really well! Yet another Lebanon, Ohio hotspot, its most popular post-breakfast offerings are its inventive (and always delicious) burgers, like the Double Butter and Garlic Steak.
Quatman Cafe
Originally opened in the Cincinnati neighborhood of Norwood in 1966, Quatman Cafe launched a second location in Mason several years back and become an instant hit! While it keeps its menu simple (think tasty sandwiches, soups and cold beer), its burgers and fries are done just right and always hit the spot!

Stone House Tavern
A longtime staple in the Village of Waynesville, this locally beloved bar and eatery might rank #1 when it comes to creativity. While its classic Hamburger and Bacon Cheeseburger are always done right, more out-there options like its Teriyaki Burger, Texas Burger and even Jalapeno Popper Burger take its menu to the next level!
Ready to dig in already? Check out our entire list of awesome Warren County eateries here!