Behind the Beer with Sonder Brewing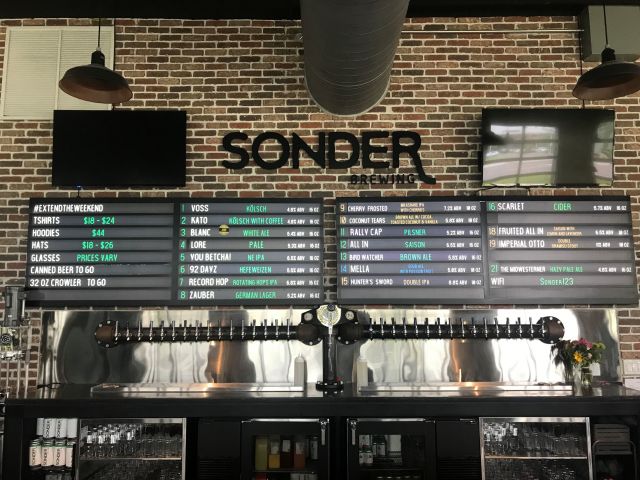 Blog by Lindsey Haney

What do you get when you combine a few neighborhood pals, some brew masters, a Podcast, and a love of great beer and storytelling? One awfully awesome brewery! Since opening for business in 2018, Mason, Ohio's Sonder Brewing has quickly become a must-stop spot for brew-loving locals and visitors alike. From "Sonder Stories", the brewery's one-of-a-kind Podcast, to its unique namesake (keep reading to find out), this newfound wonder of the Southwest Ohio brewing scene has quite the story to tell. We sat down with Jen Meissner, Sonder's VP and Chief Marketing Officer, to hear just a little of that story for ourselves.
Sonder has this big, beautiful building, so many tasty beers, and just so much going for it. Where did all of this come from? Tell me the story of Sonder Brewing.
My business partner Justin and I are actually neighbors! He and his wife, and me and my husband would often sit out at our campfire and drink craft beer together. We'd go to breweries around town, but we would always have to drive somewhere. Justin came up with a business plan and talked it through with our other partner, Daniel. Then, they brought me on to help with graphic design and marketing. We decided that we had similar passions for business and craft beer and that opening a brewery would be a good fit for us. We posted an ad for our brewer, and Chase responded! He has tremendous experience and knows a ton about brewing. We knew we could start on a larger scale due to his expertise in the craft beer industry and the brewing process. We found this 6.5 acre piece of property here in Mason.
I love that there was just an overall passion for beer before any of this even began! Can you tell me where you draw inspiration for all of your beer's different flavor profiles?

One of our taglines is "uniquely crafted". Sonder actually means "the realization that everybody has a unique story", and we think that every beer has a unique story. We give our brewers a lot of freedom to brew things that they love. We feel like when you love something, you put more effort and energy into it. They also know what consumers enjoy drinking, and they know the styles that they prefer the best. So, our uniquely crafted flavors come from what our team enjoys drinking, but also what our friends enjoy drinking. There's a lot that goes into that, of course. Chase, or Director of Brewing Operations, loves brewing lagers. We all love fruited styles, and Luke and Chase are excellent at brewing fruited styles. We love adding those into our tap list.
I feel like it's easy to tell when someone is passionate about what they do. As a consumer, you can tell when a brewer has put his or her heart and soul into a specific brew.
Absolutely! We want our brewers to be passionate and to love what they do. I do think it shows in the quality and the flavor profile!
So of all of these different options, what is your favorite Sonder Brew?
My favorite is the Midwesterner. It's a hazy pale ale. It's brewed with a unique hop, and we are one of the only breweries that uses it. It's made with all Midwestern ingredients! It has a little bit of citrus flavor, with lemon and earthy flavors. I love it partly because of how unique it is, but it also has a great flavor!
When you decided you were going to build a large-scale brewery, what made you choose Warren County as the location?
Justin, myself and Daniel are all from the area. I have been here for 20 years! We looked at a lot of places around the area, but we loved Warren County because of the innovation found here. We love the people, and we wanted to be a destination. We love that Warren County is a destination. The Mason and Deerfield areas draws many visitors and we felt like that destination feeling was just a great fit for our brewery and beer garden.
Being a longtime local, what are some of your favorite activities - aside from brewing - to enjoy here in Warren County?
You know, like I've said, I've lived here for 20 years, so it's hard to choose! Of course, we love Kings Island. I personally love to go to Lebanon. I love the shopping and the boutiques! Deerfield is a great shopping area as well. We're also big restaurant people, and we love Mac's Pizza, Two Cities, and The Wildflower Café. We love the local restaurants that are unique to us. Oh, and of course Graeter's ice cream!

If you're in search of some seriously tasty brews and a warm, welcoming environment, be sure to add Sonder Brewing to your to your to-do list next time you're in town!