Best Bets for BBQ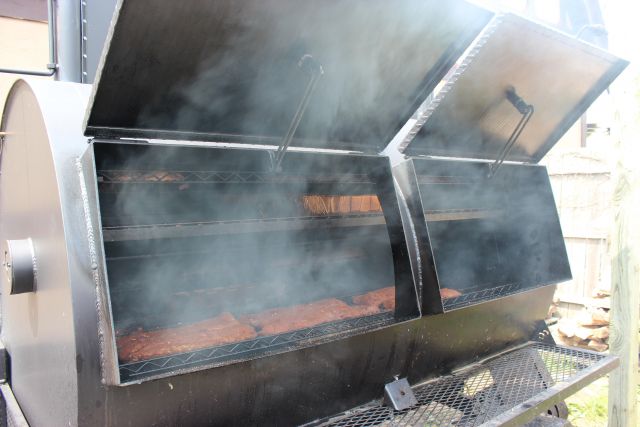 Blog by Scott Hutchinson
Be it spicy, sweet or just downright saucy, barbecue has long held a place in the hearts– and bellies –of American diners.
From the kickin' creations of the Carolinas to the fruit-infused favorites of Hawaii, the slow-smoked and deliciously seasoned delicacy has become as much a staple of American cuisine as the hot dog or hamburger, yet more unique in the fact that its flavor can vary widely from region to region. Want to see what's cookin' in the BBQ pits of Ohio's Largest Playground®? Here's where to get your fill from the smokers and grills of Warren County.
1572 Roadhouse Bar-B-Q, Waynesville
It's only fitting that 1572 Roadhouse Bar-B-Q sits on the grounds of the Ohio Renaissance Festival. After all, its pit masters approach the fine art of barbecue the old-fashioned way, taking their time to slow-smoke and season every cut of meat to perfection. While its fall-apart pulled pork, tri-tip beef and chicken aren't to be missed, it was its ribs that locals named a finalist in the "Best Dish" category in the 2016 Best of Warren County Awards. Three different sauces ranging in heat and flavor pair nicely with all of the meats, while its macaroni and cheese, green beans, baked beans and potato casserole (which combines elements of both mashed and Au Gratin potatoes) round out the delicious spread. Whether you're looking to grab a bite during the Renaissance Festival or are only on site for the food, it's well worth a visit! Another awesome bonus: you get to enjoy your meal in a beautiful, yet rustic, renaissance-inspired outdoor pavilion.
Stone House Tavern, Waynesville
Soaked in a tangy, sweet sauce and piled high with a serving of coleslaw, Stone House Tavern's take on the classic pulled pork sandwich is among the Waynesville staple's most delicious dishes. As for its size? It's perfect–as long as your definition of perfect is "too big to finish".
Barbecue Chicken Pizza, Multiple Locations, Mason
It's a marriage made in foodie heaven: pizza and barbecue. While they weren't the first to explore the now popular culinary mash-up, downtown Mason's Aponte's Jersey Style Pizzeria and Two Cities Pizza Co. each put their own uniquely delicious twists on the barbecue chicken pizza. Aponte's tops their BBQ pie with homemade barbecue sauce, feta, tomato, alfredo sauce, mozzarella and plenty of mouthwatering chicken, while Two Cities finishes its marinated chicken, bacon, red onion and scallion pizza with a barbecue drizzle and affectionately calls it the "Gotham Gangster". Two different takes, same great result: ridiculously good pizza.
Local chains that do it right
Craving something smoky while you're on the move? Warren County is also home to a handful of local chains that dish out tasty barbecue. Dickey's Barbecue Pit serves slow-cooked, pit smoked brisket, pork, chicken, turkey, ham and sausage in short order fashion from both its Mason and Lebanon locations. Piled high and served with onion and pickle, its steaming hot sandwiches are delicious, especially when paired with a down-home side dish or two. Its hot, gooey macaroni and thick, flavorful mashed potato casserole are just a few highlights of its side dish spread.
Both LaRosa's Pizzeria and Jet's Pizza get in on the BBQ chicken pizza craze as well. Located in Mason, Maineville and Lebanon, LaRosa's offers a seasonal barbecue pizza, topped with Cincinnati's famous Montgomery Inn Barbecue Sauce and your choice of chicken or pulled pork, while Jet's treats guests in Mason and Springboro to a deep dish pie loaded with grilled chicken, red onions, bacon, mozzarella cheese and Sweet Baby Ray's Barbecue Sauce.
Stomach growling yet? Plan your Tour de Barbecue, and all of your Warren County fun, today at OhiosLargestPlayground.com!