Best Bets for Burgers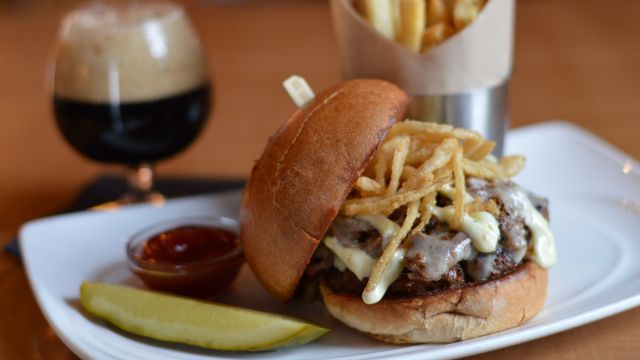 Want to beef up your lunch or dinner plans in Warren County? Here are just a handful of the hard-to-beat burgers being cooked up in the kitchens of Ohio's Largest Playground®!

Wildflower Café – Mason, OH
Wildflower's grass-fed beef burger is a frequent award winner in the region. Served in new, unique styles seasonally, it's perfectly grilled, piled high with delicious, locally grown toppings and always fresh.
The Village Parlor – Lebanon, OH
As its name suggests, this is a nostalgic ice cream parlor straight out of the movies – really, it has been used in more than one Hollywood production! Quarter-pound, half-pound, and double (two quarter-pound patties) burgers with traditional toppings of lettuce, tomato, onion, pickle, and mayo have made this vintage parlor a local favorite since 1969. Personally, I prefer the quarter-pound (so that I have a little room left for one of their signature ice cream treats)!
The Golden Lamb/Black Horse Tavern – Lebanon, OH
Located in a cozy nook within the historic Golden Lamb Hotel & Restaurant, the Black Horse Tavern serves a Pennsylvania Farms Lamb Burger with toasted fennel, brick cheese, and tomato chutney that is my teenage son's personal favorite. Other burger options can change seasonally, and burger and beer pairings are offered each Thursday night. Recent offerings have included the Italian burger topped with marinara, provolone, fried mushrooms and jalapenos; turkey burger topped with spinach, tomato chutney, Swiss cheese, basil aioli, and banana peppers; and angus beef burger topped with barbecue beef tenderloin tips, brick cheddar, house-made slaw and pickles. Some of the Tavern's burgers (including its famous Lamb Burger) are also offered in the property's accompanying Golden Lamb dining rooms.
Gameday Grille & Patio – Waynesville
A recent discovery for me, I have already visited this popular local spot twice in the last week! Picks on my first trip included the Mushroom Burger for me and the Patty Melt for my son. For my second trip, I tackled the Gameday Bubba Burger (American cheese and bacon) while co-workers devoured the Who Dey Burger (carmelized BBQ sauce, sautéed mushrooms, onion rings, jalapeno peppers, chili, bacon and cheese). Did I mention these are all half-pound burgers? Toppings are generous and the burgers are juicy!
Stone House Tavern – Waynesville
Choose from a huge variety of delicious burgers at this locally beloved restaurant in Waynesville, Ohio – Antique Capital of the Midwest! Their Hot and Sticky burger is a regular nominee for Best Burger in Warren County. It features bacon, peanut butter, pepper jack cheese and pepper jelly. My personal faves are their Bacon Cheeseburger and Teriyaki Mushroom Burger.
Sugar Run Grill – Morrow
What makes Sugar Run unique is that the owner serves beef raised on his own local farm! Toppings are simple to let the flavor shine through. These are big burgers to satisfy big appetites! Sides we sampled included regular fries, sweet potato fries, and macaroni and cheese. All were large in portion size – enough to share!
Of course, I have my personal favorites, but since everyone has different tastes, I encourage you to find your best burger on a trip to Warren County – Ohio's Largest Playground. You have LOTS of mouth-watering options!