Bikes & Bites: Riding (& Dining) Along the Little Miami Scenic Trail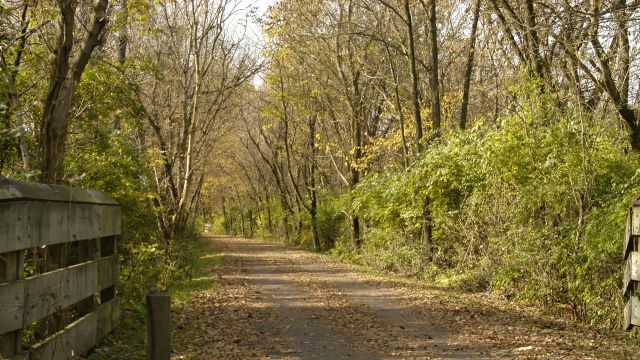 Blog by Stacha Yundt

Stretching 78 miles from its southernmost point near Cincinnati to its northernmost in Xenia, Ohio, the Little Miami Scenic Trail is the single longest trail in the Miami Valley Trail Network and passes through five different counties, including (of course) our neck of the woods here in Warren County!
Outdoorsy adventurers of all ages and experience levels can hike, bike, or skate down the nationally renowned trail, enjoying tree-shaded pathways and scenic views of the neighboring Little Miami River along the way. While some more avid explorers choose to travel along the trail for as long and as far as possible, an afternoon on the Little Miami isn't just about racking up miles. It's also about the awesome sites (and tasty treats) you can discover along the way!
The Little Miami Scenic Trail enters Warren County just north of downtown Loveland, and it's a great spot to hop on. With ample public parking adjacent to the trail and Loveland Bike Rental right there, visitors can simply grab their gear and go.
Once you get started, the first few miles of your trek are all paved trail. Most of the way is shaded by trees to keep you cool, and to one side you can enjoy views of the Little Miami River (you may even pass groups of kayakers and canoers paddling their way down). You should be prepared to stop occasionally in areas where the trail intersects with roads, but these sections are well marked and easy to cross safely.

About four miles from downtown Loveland, visitors on the trail will come across the Monkey Bar & Grille, voted the Best Bar or Pub in 2022's Best of Warren County Awards. This trail-side bar and restaurant is family-friendly and features a huge patio, live music, a bourbon cellar, and a mix of local and non-local beers on tap.
About 2.5 miles further down the trail is another opportunity to stop and enjoy some refreshments. Cartridge Brewing is one of Warren County's many local breweries and is located just off of the Little Miami Scenic Trail. With bike racks stationed out front, Cartridge welcomes guests from the trail to stop in and enjoy a pint — which might be just the ticket after 6.5 miles of pedaling. Located in Maineville with the old Peters Cartridge Company factory as a backdrop, Cartridge features an extensive food menu (including vegetarian and gluten-free options!) and, of course, plenty of beers on tap.
The next town you'll come across is Morrow. As you cross over a neat little bridge near the heart of historic downtown Morrow, you may once again catch a glimpse of kayakers paddling their way to Little Miami Canoe Rental or Morgan's Outdoor Adventures. Just on the other side of that bridge is another opportunity to stop for some refreshment — this time in the form of ice cream!
A longtime Warren County favorite, Miranda's Ice Cream welcomes folks from the trail with a safe place to park your wheels and the promise of tasty treats.
While it's a whopping 14.2 miles from Morrow to the town of Corwin (one mile more than your trip from Loveland to Morrow), that doesn't mean you won't have a good chance to rest along the way. The Oregonia United Methodist Church, which sits just off the trail and is hard to miss thanks to its iconic red door, has a sign posted along the trail inviting people to take a break and rest in the recreational area behind the church.
If you've made it all the way to Corwin (more than 27 miles from where you started in Loveland!), you'll be rewarded with the cheery sight of the Corwin Peddler's yellow ice cream shop. This adorable diner is a favorite among cyclists, and its bike-themed décor makes it clear the Corwin Peddler lovescyclists right back. Celebrate your ride with a simple (but delicious) cone or treat yourself to one of their signature crazy shakes — you've earned it!
All these awesome stops (and so many more!) await along the Little Miami, so pack up your bags, dust off that helmet and make your way to Warren County ASAP!