Bucket List-Worthy Warren County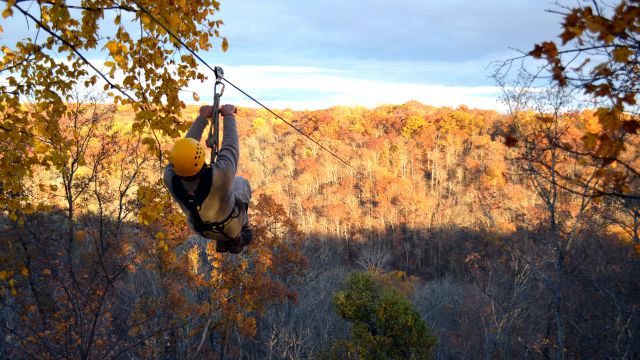 Blog by Scott Hutchinson
Want to make this the year you finally cross a line or two off that all too looked-over bucket list? Look no further than Warren County, Ohio! Home to a host of incredible and unique attractions, Ohio's Largest Playground makes finding unforgettable experiences unbelievably easy! Here are just a handful of the once-in-a-lifetime moments you can mark off your list in Warren County.
1) Float up, up & away!
No matter how you feel about heights, there's just something magical about hot air balloons. Here in Warren County, an outstanding outfitter - Gentle Breeze Hot Air Balloon Company - offers incredible, sky-high tours of Southwest Ohio. Complete with champagne toasts and photo ops aplenty (you know…to prove to your friends that you actually did it) both balloon experiences are simply unforgettable.
2) Take to the sky – old school style!
If you're up for an aerial adventure, but not too crazy about that whole floating in a basket idea, book a scenic biplane tour at Waynesville's Red Stewart Airfield! Or, if you're traveling with a history buff, make a quick trip north to Wright B. Flyer Inc. and take flight in a replica of the Ohio-born Wright Brother's original Model B airplane.
3) Free fall!
Planes not your thing? How about jumping out of them?! Skydiving is truly a once-in-a-lifetime experience, and there are few better places to give it a try than Warren County's own Skydive Cincinnati. Home to state-of-the-art equipment, experienced instructors and everything else you need to feel safe and secure as you make your descent down to Earth, they're a must-stop spot for any adrenaline lover!
4) Zip through the treetops!
If it's more of a classic outdoorsy experience you're after, check out Ozone Zipline Adventures! One of the largest treetop canopy zip line tours in the Midwest, Ozone sends its gravity-defying guests soaring through a course of a dozen scenic, high-speed zips, some of which reach heights of more than 200 feet! It's intense. It's outdoorsy. It's downright awesome!
5) Ride a record-breaking roller coaster!
Thrill-seekers won't want to miss Kings Island either! Home to 12 incredible roller coasters, including a number of world record setters in "The Beast" (the world's longest wooden coaster) and "Banshee" (the world's longest inverted coaster), it's one of the nation's top-ranked spots for theme park enthusiasts.
6) Meet a sports superstar!
Traveling with a sports fan? Pencil Warren County into your August agenda. That's when the world's greatest tennis players, including icons like Roger Federer and Serena Williams flock to Ohio's Largest Playground to play in the annual Western & Southern Open. Routinely ranked as one of the sport's most fan-friendly tournaments, it's a rare opportunity to meet, greet and snap once-in-a-lifetime photos with the game's biggest and brightest stars.
7) Visit an award-winning vineyard!
While certainly less "extreme" than some of our other suggestions, there's nothing wrong with including a few easy-going adventures on your bucket list. If you're into vino, Valley Vineyards in Morrow, Ohio offers you the chance to tour and taste wines on the grounds of its beautiful, award-winning vineyard. One of just 13 American wineries invited to pour at the Smithsonian's 2013 celebration of the 21st Amendment - and also home to a delicious craft brewery - Valley Vineyards is well worth a spot on any wine or beer lover's bucket list!
Ready to start scratching some of these Warren County wonders off your list? Plan your Southwest Ohio escape right here on OhiosLargestPlayground.com today.