Calling All Explorers: Kings Island's Adventure Port is Now Open!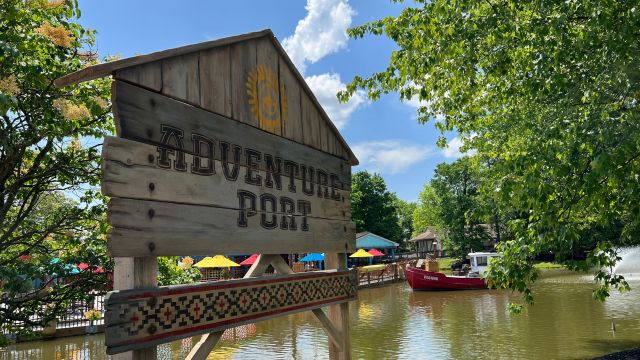 Blog by Stacha Yundt

Kings Island, Warren County's world renowned amusement park, just introduced a whole new adventure to its already legendary lineup of theme park thrills:

Adventure Port is finally here!

Since the debut of Orion (one of just seven giga coasters in the world!) in 2020, loyal Kings Island fans have been chomping at the bit to see what the park's always inventive development team might roll out next. Now, after months of anticipation, we've finally got our answer!
As veterans of the 364-acre park know, Kings Island's layout has long been divided into a series of unique, themed areas (Action Zone, Area 72, Coney Mall, International Street, Oktoberfest, Planet Snoopy, and Rivertown), each of which house theme-appropriate rides and attractions.
Adventure Port, located near Coney Mall and Oktoberfest, is now the park's newest themed area - and one of its absolute coolest!
Much of Adventure Port is centered around Adventure Express, a beloved, longstanding mine train roller coaster that's been an institution at the park since 1991. While the ride itself didn't undergo many major changes with the addition of Adventure Port, its entrance and cue areas did undergo awesome makeovers, and its on-ride experience features a few new elements as well.
Even more exciting, the opening of Adventure Port also marks the grand opening of two brand new rides!
Cargo Loco, located near the new official entrance to Adventure Port, is a spinning barrel ride that promises to get its riders from Point A to Point B…eventually. As the story goes, Cargo Loco is run by the Arrow Cargo Company and handles all the deliveries for Enrique's, a brand new Mexican food establishment sure to become a hot spot for hungry park guests.

Just a short walk from Cargo Logo is Sol Spin - is a massive spinning disk ride (said to have been unearthed by archaeologists!). Riders climb aboard its suspended passenger vehicles and go for a serious spin (at 60 feet in the air and 25 miles per hour)!
In addition to Enrique's, Adventure Port is now also home to Mercado, a new lake-side establishment boasting a full-service bar with wine, spirits, craft beer, and frozen drinks.
Ready to experience Adventure Port - and everything else KI has to offer - for yourself? Plan a Warren County getaway today right here on OhiosLargestPlayground.com!