Celebrating Sauerkraut in Southwest Ohio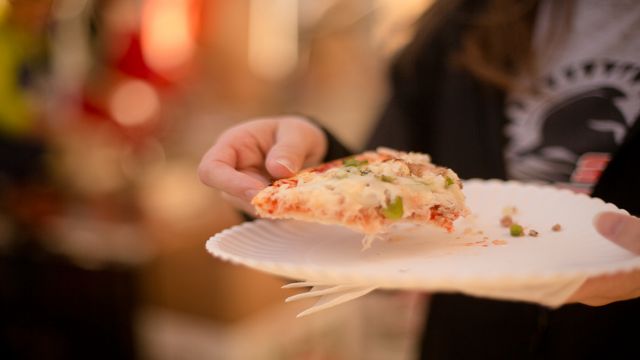 Blog by Scott Hutchinson
Having lived in Warren County for 20-plus years, I can attest firsthand that fall in Southwest Ohio is synonymous with two things: football and festivals. While the former has left many a fan shaking their heads in recent years, the region boasts a far richer history of fun and always filling autumn festivals. Among the most popular of its food-themed gatherings is Warren County's own Ohio Sauerkraut Festival.
Hosted each year along a historic stretch of downtown Waynesville, the Ohio Sauerkraut Festival has grown in leaps and bounds from its humble beginnings in 1970. What began then as a small gathering of local merchants has since grown in to one of the nation's premier food and craft festivals, attracting thousands of out-of-town visitors each year.
So, what's so endearing about a small-town Ohio festival? As with any good street fest, it all starts with the eats.
As its name suggests, the Ohio Sauerkraut Festival proudly honors Southwest Ohio's German heritage, serving up more than seven tons of sauerkraut each year in a variety of traditional and non-traditional ways. While some visitors opt for more classic creations, pairing the cabbage-based delicacy with pork sausage, the festival's more daring guests indulge in everything from sauerkraut pizza to egg rolls and soups. More daring still, several of the festivals' vendors serve up sauerkraut-based desserts, cooking the special ingredient into a flaky, coconut-like consistency for cookies, pies, donuts, fudge, ice cream sundaes and more. Guests who aren't so crazy about cabbage can, of course, enjoy more traditional festival food items.
Once fest-goers have had their fill (or are just in between bites) they're free to peruse an incredible array of craft booths. Each booth features handmade items from over 400 artisans who travel in from more than 25 different states each year to share their creations. Every vendor is screened by a jury prior to the festival in order to ensure that every basket, bracelet, painting and plate is 100% authentic.
Perhaps the most unique facet of the festival is its simple charm. Visitors won't find the blaring music or games of chance synonymous with many of today's festivals, but are simply treated to good old fashioned food, crafts and entertainment in a quaint small-town setting. Regarded as one of Ohio's most charming villages, Waynesville is steeped in history and packed with fun and unique antique shops, restaurants and sightseeing opportunities that make its year-round attractions worthwhile stops as well.
The festival is held in October each year, so pack your bags - and your appetites - and make your way to Waynesville this fall!