A Train Lover's Tour of Warren County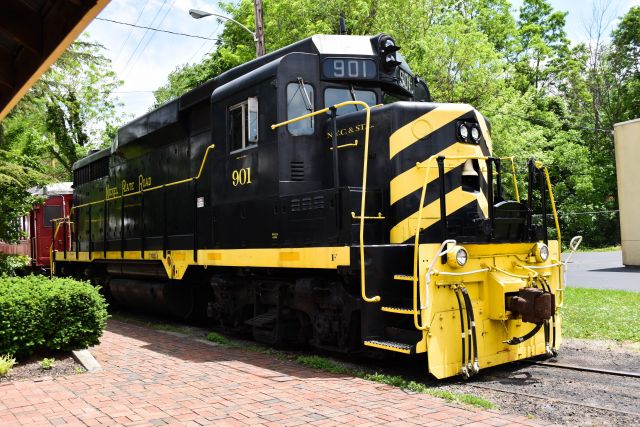 Blog by Scott Hutchinson

Warren County may be known for its theme park thrill rides, but Kings Island's coasters aren't the only rail cars worth checking out in Ohio's Largest Playground. Trains of all types also wind their way through Warren County, making it a must-stop spot for any locomotive lover. Whether you're a steam engine enthusiast, a model train master or just along for the ride, you're sure to find plenty of fun at these train-themed attractions.
Lebanon Mason Monroe Railroad
Featuring cars originally constructed by the famous Pullman Company in 1930, the Lebanon Mason Monroe (LM&M) Railroad treats visitors of all ages to authentic, nostalgic train rides year-round. Departing from its replica Victorian-style passenger station in the heart of Historic Downtown Lebanon, LM&M winds its way through 16 miles of scenic Warren County countryside, as its crew members share tales of the railway's storied past. Themed and seasonal rides like its Easter Bunny Express, Wizard Express and North Pole Express bring wide-eyed kids face-to-face with such childhood heroes as Santa, the Easter Bunny and Harry Potter, while more grown-up excursions like Wine & Cheese, Pizza & Beer and Bourbon Tasting rides, make for truly unique date nights.
Kings Island & Miami Valley Railroad
A replica of a once famous Civil War era locomotive known as "The General", Kings Island's K.I. & Miami Valley Railroad boasts authentic steam-powered engines and open-air cabs sure to excite riders of all ages. Running a continuous loop from the the park's historic Rivertown Station to its sprawling water park, Soak City, the railroad is one of the most fascinating–and convenient–ways to navigate the award-winning amusement park. Want to make your ride especially unforgettable? Visit the railroad during the park's annual Winterfest or Halloween Haunt celebrations when its decked out in charming holiday or spooky horror-inspired decor.
Dixie Union Station
More into building trains than riding them? A locally beloved standby for model train hobbyists and collectors, Dixie Union Station sells, buys and repairs a seemingly endless array of electronic train parts and accessories from its long-standing shop in charming downtown Mason. Owned and operated by long-time local hobbyists, the shop's incredible inventory and nostalgic allure make it well worth a stop, whether you're a novice collector or master modeler.
Nearby Fun
When it comes to the world of miniature locomotives, it gets no bigger than EnterTRAINment Junction in nearby West Chester, Ohio. Home to the world's single largest indoor train display, this 80,000+ square-foot family entertainment complex also houses an American Railroading Museum, hand-cranked rail cars, a fun house and maze, escape room challenges and an interactive children's play area.

Just a short drive south of Warren County, the recently renovated Cincinnati Museum Center is also home to an impressive indoor train exhibit.

Ready to punch your ticket to train-themed thrills? Learn more about all of these attractions, and plan the rest of your Warren County fun right here on OhiosLargestPlayground.com!