Comfy Rooms & Comfort Foods: The Bed & Breakfasts of Ohio's Largest Playground
​Combining the quiet comforts of home with the convenient hospitality of a hotel stay, bed and breakfasts have long been a popular choice for weekend road trippers seeking an escape from the ordinary.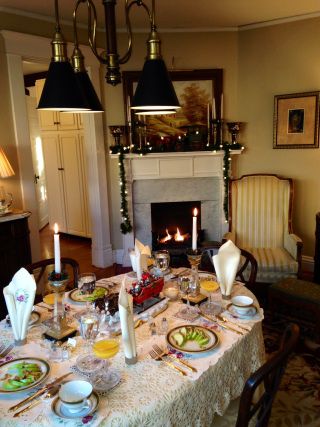 Whether you're planning a romantic retreat for two, a relaxing reunion with family and friends, or even an educational experience at a historical hideaway, you're sure to find the R&R you're after in the B&Bs of Warren County, Ohio.
Spanning four separate Victorian homes in the Floraville District of historic Lebanon, Hardy's Bed & Breakfast Suites ranks among the region's most traditional and formal B&Bs. Featuring a fireplace, beautifully decorated lounge and kitchen areas, flower-flooded patios, and optional massages, the property is just a short walk from Downtown Lebanon's highly renowned collection of more than 50 antique and specialty shops–making it a popular choice for shop-savvy travelers on grown-up getaways.
Just minutes from Hardy's, and similarly close to Lebanon's popular shopping district, Brian Manor treats guests to quiet, quaint stays on its incredibly unique, castle-like property. Featuring two suites, each with their own private entrance and view of the property's scenic courtyard, the manor serves up delicious gourmet breakfasts both indoors and out when weather permits.
Cranberry Cottage, just minutes down the road, also boasts two beautiful guest rooms, a quiet, relaxing sun porch, a convenient location near popular locally owned shops and restaurants, and a delicious breakfast spread that keeps guests coming back time and time again.
Traveling with a history buff? Consider a stay at Springboro's storied Wright House Bed & Breakfast. Once a well-known stop for slaves traveling north along the Underground Railroad, the home is still to this day one of the most authentic remaining safe houses still standing in Ohio and is listed in the National Register of Historic Places. Beautiful, relaxing, and steeped in history, it is hands-down of one of the most unique accommodations Southwest Ohio has to offer.
Finally, for those looking to get a little lost in nature, Oregonia's Terrapin Village provides guests a relaxing, peaceful escape complete with beautiful forested surroundings, cozy rooms with private bathrooms, and hearty breakfasts prepared each morning by the property's owners. Just minutes from both Caesar Creek State Park and the Little Miami Scenic River, it's an ideal B&B for outdoorsy adventurers.