Geocaching in Warren County: Your Guide to Treasure Hunting in Ohio's Largest Playground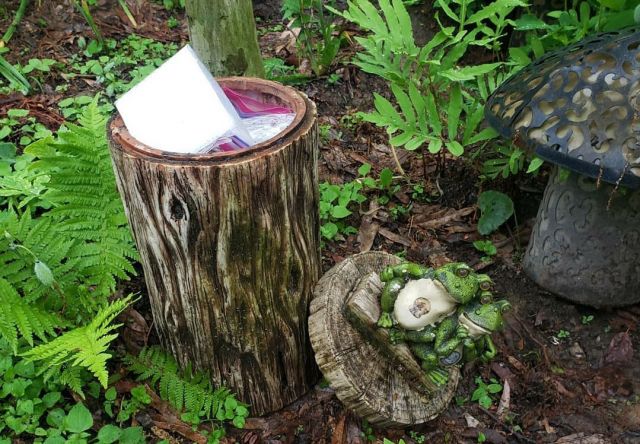 Blog by Stacha Yundt

Geocaching is one of coolest trends in travel today, and whether you're a seasoned cache collector or totally new to the term, you can have an absolute blast enjoying the outdoorsy, adventurous craze right here in Warren County!

So...What Exactly is Geocaching?
Well, to put it simpler terms, geocaching is a real-world outdoor treasure hunting game that implores players to use GPS to discover hidden items all around them. These items (or caches) are usually stored in waterproof containers and may be tucked away in the woods, behind street signs, under benches or even in plain sight right in the heart of town. Since its invention in 2000, geocaching has swept across the world, driving people to get out and explore both new and familiar places to discover some of the millions of caches hidden worldwide. While some geocaches are small and just contain a logbook for players to document their discoveries, many others are much bigger and filled with trinkets and prizes. Once a cache has been discovered, players are encouraged to leave something behind at the site for the next adventurous treasure hunter to find. To get started, curious players simply need to download the official Geocaching app on their phone or visit Geocaching.com.
Tips for Caching in Warren County
There are more than 3 million active geocaches in the world today and plenty of them are hidden right here in Ohio's Largest Playground! Even if your visit to Warren County already has an itinerary packed full of roller coasters, hiking, shopping and more, finding some time to geocache while you're here will be a breeze. Here are just a few tips to make it even easier:

1) Download the official Geocaching app onto your phone and pull up Warren County on the map. While the Lists feature on the app is only available to Premium members, making a list on your phone or in a notebook is a free alternative to ensure quick access to can't-miss caches later.
Bonus tip: Filter caches by "Favorite Points" to find the most popular in the area.
2) Pack a swag bag to bring along on your caching adventure. It's always a good idea to bring your own pen when geocaching to make sure that you have a way to sign any logbooks you find along the way. You can also include a few small items to leave in caches, extra paper in case a logbook is full, and a handheld GPS (your phone should have one built-in, it's just a matter of preference!).
Bonus tip: Check the comments on a cache to see if extra tools like a flashlight might be needed.
3) Dress for the occasion and bring a good pair of shoes when you plan on looking for some geocaches.

Bonus tip: Bug spray and sunscreen may also be good to bring along depending on where you plan to look.
Ready to Get Started?
Geocaching is a great way to get out and explore, and where better to play than Ohio's Largest Playground?! Happy hunting!