Halloween Haunt at Kings Island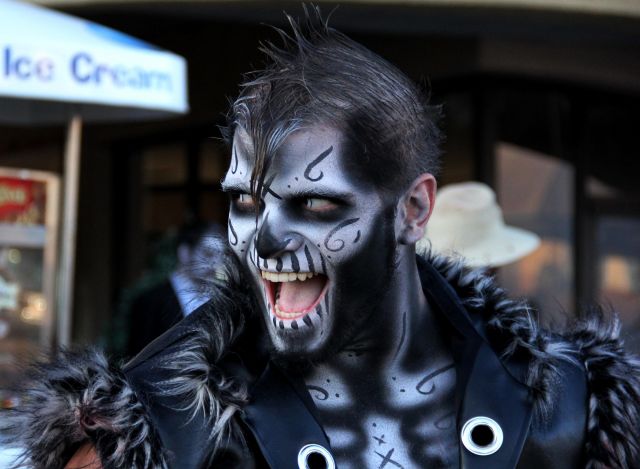 Blog by Mary Fessler
As a huge coaster and thrill ride enthusiast, I have enjoyed spending my summers at Kings Island in Mason, Ohio since it first opened in 1972.
Growing up, I also enjoyed visiting the park during the winter months for its then annual WinterFest (returning in 2017). Having just recently worked up the courage to check out the park's flagship fall event – Halloween Haunt – I can now say that autumn, too, is a blast at Kings Island! Here's just a quick recap of my family's first visit to Halloween Haunt – a night we won't soon forget.
First off, the event's theming is fantastic! As soon as you enter the park's specially decorated gates, you are absolutely immersed in the Haunt. Almost immediately, a vast array of colorful and spooky characters greet you from all throughout the park. OK, they don't exactly "greet" you, but rather scare the heck out of you! This might be a good time to mention that Halloween Haunt is not for young children. In addition to its scare factor, some of the shows and mazes feature mature subjects, visuals, and/or double entendres. Fortunately, there are plenty of warnings about this online and at the park before you buy tickets.
Being a bit hesitant about haunted houses myself, I must confess that I spent most of my night on a few of my favorite thrill rides like Banshee, Diamondback, and The Beast. All of them were as awesome as ever, and felt like totally new experiences in the dark! My teenage son did test out one of the mazes called Wolf Pack. His companion said this was one of the tamer ones, but my son – who must take after me – found it to be pretty intense. Backwoods Bayou, Board to Death, CarnEvil, Urgent Scare, and Field of Screams (new in 2016) are just a few more of the impressive array of haunted mazes. Those wanting to amp up the scare factor can purchase skeleton keys, which offer special access to hidden rooms within some of the haunted attractions.
Once you've had your fill of thrills from the rides and mazes, you can watch some seasonal shows. Blood Drums is described as a "rapturous band of misfit drummers" performing a "percussive blood bath of rhythm and music." Other shows include "Hot Blooded" and "Monster Rock".