History Takes Flight at Wright B Flyer Inc.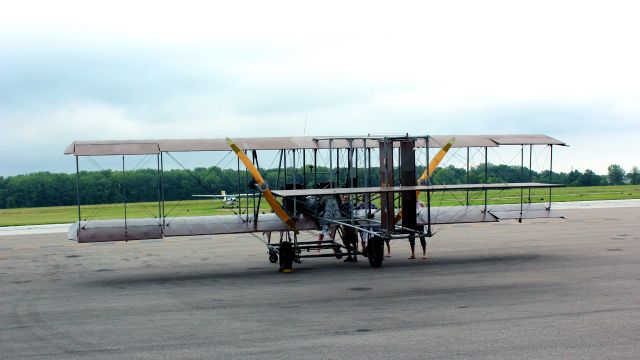 Blog by Scott Hutchinson

In the the late 1890's, iconic Ohioans Wilbur and Orville Wright changed the world in the back of their simple, Dayton, Ohio bicycle shop. Tinkering with their tools and putting their mechanical skills to the test, the brothers successfully invented the world's very first airplane, etching their names - and the City of Dayton - in the history books forever.

Fast forward more than 100 years and the Wright Brothers' story still strikes a chord in their hometown. In fact, one dedicated group - Wright B Flyer Inc. - has made it their mission to keep the brother's legacy very much alive. Headquartered just north of Warren County in the Dayton suburb of Miamisburg, and run entirely by volunteers, Wright B Flyer Inc. invites aviation lovers of all ages to explore its educational museum, get up-close and personal with replica aircraft, and - yes - fly in an incredibly authentic look-alike of one of the Wright Brothers' very first airplanes, the B Flyer!

Wright B Flyer Inc. and its partners at the National Aviation Heritage Alliance were kind enough to take me for a ride aboard the Model B this summer, and what a ride it was! (Check out the video!)
The Flyer Experience
Now, I like to think I've flown a fair share over the years, but as soon as I stepped foot inside the Wright B Flyer site, I knew I was in for an entirely new experience. As the old-timey, open-air plane roared to a start just outside of the hangar, I was led by staff onto the runway and up into a seat directly next to the pilot. The plane was a near spitting image of the Wright Brothers' iconic aircraft, but much sturdier feeling, having been built with modern materials to meet today's regulations. After a brief intro with my very friendly (and experienced) pilot, I was strapped securely in, fitted with goggles and a headset, and given some quick final safety instructions. Then, in what seemed like seconds, we were cruising down the runway, leaving the ground and sailing into the sky for what proved to be an amazingly smooth and scenic flight. It didn't last long - as the Wright Brothers' early flights never did - but every second was awesome!
Once we'd landed, site volunteers greeted me on the runway, helped me from my seat and handed me two items: an official Wright B Flyer certificate and a toothpick. The certificate, I was told, was to hang in my office to commemorate my experience. The toothpick? Well, that was for picking bugs out of my teeth! Bug-free and full of adrenaline, I spent the rest of the morning touring the site's museum and chatting with its volunteers, who were eager to share their own Flyer stories.

Check it out yourself!
Want to experience a Wright B Flyer flight for yourself? Become an "Honorary Aviator" by donating to Wright B. Flyer Inc.! Not only will your donation go a long way to help keep the Flyer in action, but it'll punch your ticket for a ride of your own!
Flying not your thing? No problem at all. Guests can still explore the Wright B Flyer Inc. museum and see its aircraft up close completely free of charge.
***LIMITED TIME CONTEST***
We're passing along the high-flying fun! Enter our Fly Like a Wright Brother Contest now through Friday, August 31, 2019 for your chance to win a FREE Honorary Aviator Membership (which includes a flight on the Flyer)! Enter here!