WinterFest: 10 Can't-Miss Experiences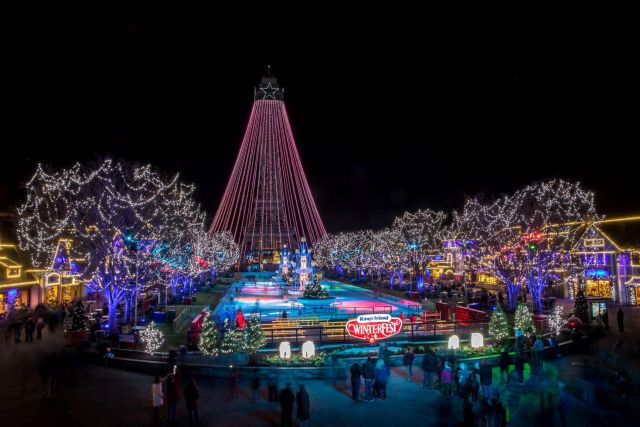 Blog by Scott Hutchinson

Kings Island may be best known for its spring and summertime thrills, but when Ohio's warmer months give way to winter, the Warren County theme park makes a seasonal transformation of its own. Each November, Kings Island becomes WinterFest, a wintry wonderland bursting with beautiful lights, festive food, Santa visits, and - of course - plenty of theme park thrills. Hoping to visit for the first time this holiday season? Here are just a handful of highlights you won't want to miss!
1) Lose yourself in the lights!
No matter where your WinterFest fun takes you, you'll always be surrounded by a spectacle of lights! Stroll International Street to see thousands of twinkling bulbs and the iconic Eiffel Tower, or snap a festive photo by the 40-foot Christmas tree on WinterFest Way! Beautiful lights and photo opps aplenty await around every corner.
2) Sing along to a live show!
Whether it's drummers drumming, dancers dancing or pipers piping that gets you in the holiday spirit, you're sure to find a performance you'll love! More than a dozen different holiday shows are on the docket every day at the snowy celebration, and they're all entertaining.
3) Take a train ride!
When winter rolls around, Kings Island's K.I. & Miami Valley Railroad dresses the part! Hop aboard the festively decorated locomotive for a 10-minute train trip complete with beloved holiday tunes.
4) Horse around!
Looking for that truly heartwarming holiday experience? Make your way to Tinsel Town for a classic horse-drawn carriage ride! One of the coolest and most memorable ways to take in the sights and sounds of WinterFest, the rides also make for some awesome photo opportunities.
5) Feast on festive treats!
What's a winter celebration without hot chocolate, candy canes and cookies? You'll find all of those (and so much more) at the park's numerous concession stops and restaurants. Kids with sweet teeth will love the holiday funnel cakes and cinnamon pull-apart bread at Claus Confectionary, while adults won't want to miss the spiked hot cocoa and cider at Jack Frost's Liquid Libations.
6) Snap a pic with Saint Nick!
No holiday celebration would be complete without seeing Santa! Meet and greet the jolly old saint and snap a picture that will last a lifetime at WinterFest's beautifully decorated photo area, St. Nick's Pics.

7) Wipe out your wish lists!
Still need to do some holiday shopping? Surprise that special someone with a one-of-a-kind gift from WinterFest's enormous array of seasonal shops! Tasty handmade treats, local artisan crafts, holiday décor and more are ripe for the picking all throughout the park!
8) Create a special souvenir!
Don't let the fun end when the park closes! Make the good times last by making your very own custom handmade craft at Sally's Christmas Crafts or decorating take-home treats in Mrs. Claus' Kitchen!
9) Skate the night away!
Up for a little action? Strap on some skates and take to the ice on Kings Island's beautiful Royal Fountain. Whether you're a first timer or a figure skating phenom, it's an awesome experience of guests of all ages! (Note: Ice skating is not included in the price of park admission. Children under 10 must be accompanied by an adult).

10) Remember to ride!
It's easy to get lost in WinterFest's whirl of festive food, seasonal songs and spectacular lights, but don't go forgetting about the coolest part of the park: its thrill rides! 19 of Kings Island's incredible rides, including the award-winning Mystic Timbers, are open for operation!
Ready to experience WinterFest for yourself? Plan your Kings Island visit, and all of your Warren County fun, right here on OhiosLargestPlayground.com!