Meet the Chef: The Golden Lamb Restaurant & Hotel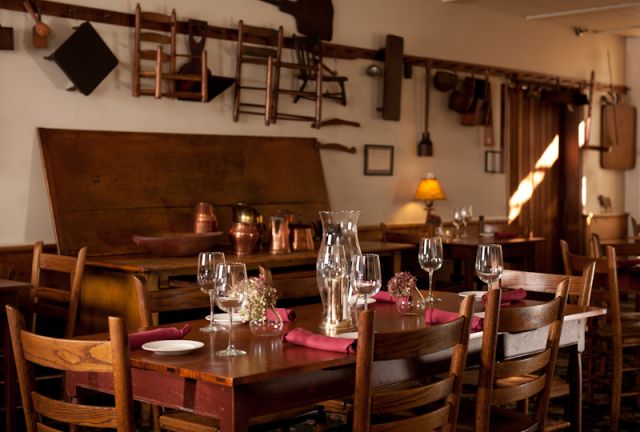 Blog by Scott Hutchinson
Since first opening its doors in 1803, Lebanon's Golden Lamb Restaurant & Hotel has been a staple of both the dining and lodging scenes of Southwest Ohio.
Having played host to a slew of American icons including numerous U.S. presidents, award-winning authors and celebrities over the years, the Downtown Lebanon landmark remains as popular as ever today, and just recently earned the title of 'Ohio's Most Iconic Restaurant' from pop culture company Thrillist.
In this third installment of our Meet the Chef blog series, we take you beyond the historic hallways of The Golden Lamb and into its kitchen to meet Chef Nicholas Roudebush, the culinary craftsman behind many of the award-winning restaurant's delectable dishes.
Where did you get your culinary training?
I studied at Sinclair Community College in Dayton about twenty years ago. From there, I trained under a French chef for ten years, as well a few chefs from the Culinary Institute of America. I learned a lot by just watching and inspiring myself to be the best I could be every shift.
What other chefs inspire you most?
I grew up watching Julia Child, Emeril Lagasse, and Jacque Pepin. Watching them create and have so much fun doing it made me realize at a young age that this was something I wanted to do. I can remember the first chefs I trained under, and how intense they were for perfection. Being in the kitchen with my grandma was also an inspiration. I remember having so much fun with her and learning all her tips and tricks along the way. I couldn't tell you which one inspired me the most because I took a little from each of them.
The Golden Lamb has been a long-time staple in Southwest, Ohio, but has also introduced several new items to its menu over the past few years. How do you balance evolving your menu with honoring time-tested favorites?
Golden Lamb uses locally sourced ingredients and utilizes the farms in the region as much as possible, and this helps us strike a balance between creating special menus with new dishes and still offering favorites guests have known for generations. It can be a challenge to find a producer who can give us the quantity of an ingredient we need, but we think it's important to use food from the region whenever we can. That helps us both evolve the menu and stay true to our historic roots of using food from right here in the Ohio and Miami Valleys.
How important or prevalent are local ingredients to your menu?
It is very important to us to use local ingredients whenever we can, especially in the summer months when most local farms are harvesting their produce. We source local proteins throughout the year whenever possible for special dinner and event menus. We work with places like The Black Barn in Lebanon, Irons Fruit Farm in Lebanon, Maple Grove Farm in Lebanon, Sky Haven Farm in Cincinnati and Emmett Ridge Farm in Georgetown often for both our regular and special menus.
From where do you draw inspiration for new dishes?
Our culinary team will grab a cup of coffee, a handful of our favorite books and use our years of experience and knowledge of what's in season and what's being produced to brainstorm ideas for dishes.
What is your personal favorite dish on the Golden Lamb menu?
My personal favorite dish is the Braised Lamb Shank. There is just something about a rich, three-hour braised shank that's so tender it's falling off the bone–especially when it's served with creamy mashed potatoes. That is comforting to me.
What is your favorite protein to work with and how do you prefer to prepare it?
My favorite protein to work with is pork. I love every part of the pig from the shoulder to the tenderloin. I think it is the most versatile protein and options for creating dishes with it are endless. And who doesn't love bacon?!
Other than The Golden Lamb, what are your favorite Warren County eateries?
I enjoy a little mom-and-pop place right by my house called The Country Kitchen. I'm also a sucker for Mexican cuisine, so I go to Acapulco from time to time.
What was your favorite meal as a kid?
I remember coming home after a long day at school to the smell of ham, green beans, onions and red skinned potatoes in the air. It was a simple dish that my mom would start in the crock-pot early in the morning. When we came home, we baked cornbread to accompany the ham and beans. That was as comforting as it gets. To this day, it's still one of my favorites.