Memories Made At The Ohio Renaissance Festival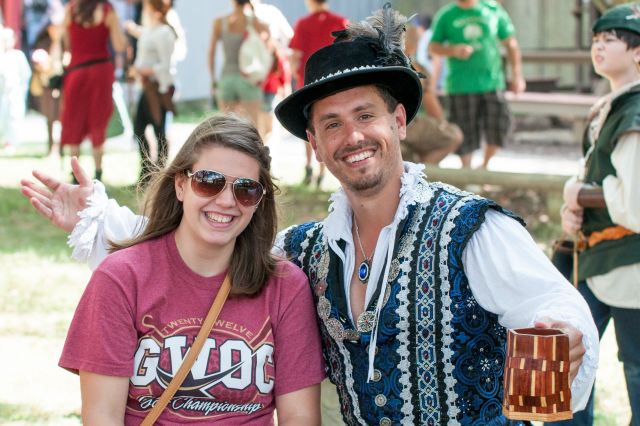 Home to a legendary collection of more than 100 daily shows, 200 costumed performers, 150 craft shops and era-inspired food and drink, the Ohio Renaissance Festival has long been regarded as a staple of the fall festival scene across the Midwest. The 4th largest gathering of its kind in the United States and one of Travel Channel's top fall festivals nationwide, the medieval affair draws loyal crowds of fest-goers year after year, and has only continued to grow in both size and popularity since first opening its castle-inspired doors more than 25 years ago.
So, what exactly makes the Ohio Renaissance Festival such a can't-miss occasion? We asked Warren County regulars, including some of our very own Warren County Convention & Visitors Bureau staff members, to share a few of their favorite "RenFest" experiences.
"The Mudde Show (also known as Theatre in the Ground) has always been a highlight for my family. It's especially fun to watch the faces of those who haven't seen the show before, and therefore aren't expecting the silliness or the splashes of mud! It is also always fun to see how the performers keep it fresh by doing things to get each other to laugh and break character. The Swordsmen show is great too. I was feeling pretty smug one year when my husband and his uncle were pulled on stage to be part of this show – audience participation is a common theme at many of the shows. That was until I was pulled on stage to be the "Lady" they were learning to properly woo. Embarrassing? Yes, but I am not sure who was more embarrassed – my husband, me, or our son who had to watch the whole fiasco unfold!" – Mary F.
"My favorite memory of the Ohio Renaissance Festival is taking my son for the very first time. He was only a few months old at the time, but we still had a ton of fun posing him for photos with all of the festival's characters and just walking him around the grounds. I'd be remiss if I didn't mention the tasty giant turkey legs too. Don't miss out on those!" – Dan K.
"My husband always loves the turkey legs, and the kids always get a kick out of the shows – especially the one where the performers throw mud all over one another. Even just watching other guests in their Renaissance outfits is always fun!" – Carol M.
"There's one area of the festival where you get to shoot bows and arrows, and toss throwing knives and axes into wooden targets. You see action stars pull that off all of the time in the movies, but you wouldn't believe how tough it is to get a knife to stick in a plank of wood! The festival is always an outstanding people-watching event as well…lots of interesting characters!" – Jessica L.
"Growing up, I always had an infatuation with knights. At one point, in fact, I actually told my parents I'd like to be one when I grew up. That being the case, the Renaissance Festival's live jousting has always been a highlight for me. Real horses, real armor, real lances – it's the real deal. The food there is super tasty too! 1572, their on-site barbecue restaurant, is incredible. – Scott H.
Want to make some RenFest memories of your own this fall? The medieval madness begins in September every year, so plan your visit today right here at OhiosLargestPlayground.com!