Miami Valley Gaming: A Good Bet for Great Bites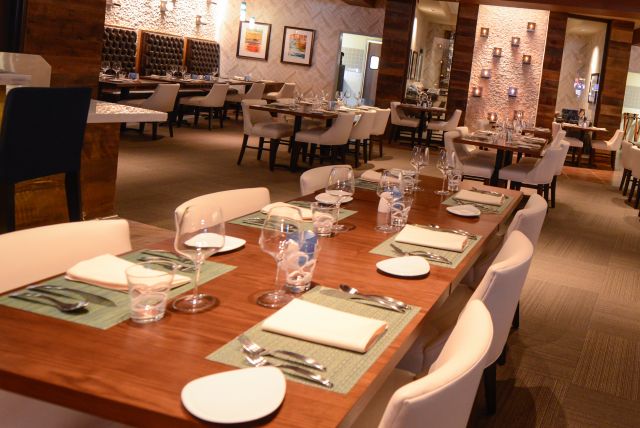 Blog by Mary Fessler

If you've read any of my previous blogs, you know that my family and I are self-proclaimed foodies. We will travel for a good meal! Luckily for me, we didn't have to travel far to enjoy one of the best dinners we have had in a long time. While I had dined at 2 of the restaurants within Miami Valley Gaming in Lebanon, Ohio, I had yet to experience the raved about Cin City Sea & Steak. So with our son away at college (you must be 21 to enter Miami Valley Gaming), my husband and I decided it would be the perfect, relaxing night out.

We started our meal with the Calamari which is served lightly breaded and fried with roasted tomato sauce, a balsamic reduction and cherry tomatoes with fresh basil. It was a large portion which could have easily been shared by as many as 4 people. And it was delicious! Another appetizer which looked appealing (and we will definitely try on our next visit) was the Greek Nachos which include seasoned lamb with chunks of cucumber and tomato, fresh herbs, and feta cheese served on lemon-pepper naan.
For our main course, we both went with the restaurant's signature steaks. I had the 8 oz. Beef Tenderloin Filet Mignon which came with a HUGE baked potato and grilled baby carrots. My husband ordered the 12 oz. prime New York Strip served with rosemary fingerling potatoes and haricot vert. Both were perfectly prepared and soooooo tender. Many restaurants seem to have adopted their own interpretation of "medium", "medium well", etc., so we appreciated our server's confirmation of just what each would mean so there was no confusion. As my husband stated, these were simply some of the best steaks we have ever had!

Since the main courses were very generous portions, we shared a dessert of Bruléed Cheesecake. Now I always love a good cheesecake, but this was next level with a brown sugar graham crust and golden bruléed sugar crisp on top.
In the interest of research (that's my story, and I'm sticking with it), I thought it best to revisit 2 other restaurants within Miami Valley Gaming a few weeks later. Acres Seasonal Buffet has an ever-changing menu and is open select days for lunch and/or dinner. On this particular visit, there was pizza, tacos, fried fish, shrimp, chicken wings, pasta, and more. A huge array of side dishes and desserts make this a perfect choice for a group who might have differing tastes. If you want a lighter option, the Trifecta Eatery offers sandwiches, flatbreads, and salads. I opted for the chicken Philly with fries (ginormous, delicious fries I might add) while my colleagues had the Tuscan pulled chicken. Again, these portions are big enough to share! Trifecta is open 7 days a week.
Miami Valley Gaming's dining options don't end there! MV Perks is open 7 days a week, 24 hours a day and offers grab & go options as well as specialty coffee drinks. If you're looking for adult beverages, 1803 and Center Bar are also on-site.
Of course, Miami Valley Gaming is known for its games and racing, so if you're visiting for that purpose, you can add a meal from any one of these restaurants to round out your experience. But even if gaming isn't your thing, just go for the dining. It's a sure bet!