Outdoor Eats in Ohio's Largest Playground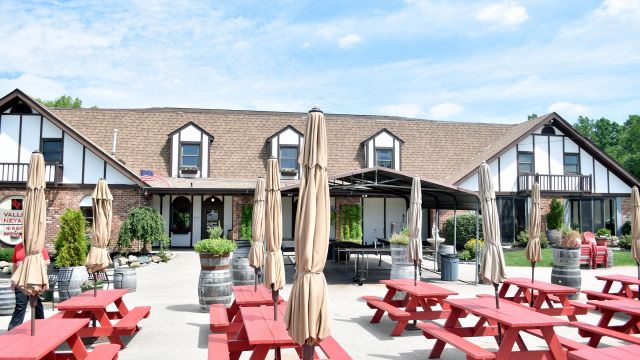 Blog by Lindsey Haney
Summertime in Warren County. Does it get any better? Gloriously blue skies, vividly colorful flowers, and the warm, comforting embrace of the Southwest Ohio sun. Even at the first hint of winter breaking its grip on our area each year, I start planning my summer fun. Being a food lover - that means soaking up the sun on the patios of Warren County's awesome restaurants. Whether you're just looking to relax with a drink or treat the family to a delicious dinner, Warren County has plenty of options for outdoor eats! Here are just a handful of my favorites.
Stone House Tavern
Winner of the 2018 Best of Warren County Award for Best Bar/Pub, Stone House Tavern in Waynesville is a long-standing local favorite with classic American food and drink options. Stop in after a fun-filled day of shopping in Historic Waynesville, and enjoy the summer vibes on its comfy, shaded patio!
Two Cities Pizza
You don't have to go far to experience a slice of New York and Chicago! Two Cities Pizza in Mason is so delicious, you'll be coming back week after week to taste every variety of pizza they offer. Seriously, it's that good. But what makes this place even better is the patio out front. The partially covered patio offers comfort and ambiance with a street view great for people watching!
The Courseview Restaurant
Not just for golfers, The Courseview Restaurant in Mason is open to all. With one seriously big patio, there is no shortage of seating for even the largest parties. Sit back and relax to the sounds of live music and enjoy their delicious burgers. You won't regret it!
Heather's Coffee & Café
One of Warren County's top spots for coffee lovers, Springboro's long-standing Heather's Café boasts a beautiful, shaded patio that's the perfect place to enjoy an early morning caffeine kick or sun-soaked lunch with friends. Home to tasty soups, salads and sandwiches, plus an awesome array of rotating coffee drinks, it's a spring and summertime staple for fans of outdoor eating.

Mr. Boro's Tavern
Another local favorite, Mr. Boro's Tavern in Springboro is a friendly, inviting neighborhood spot that also happens to have a really awesome patio! Garage style doors open to create a seamless experience for both indoor and outdoor patrons. Live music from local musicians fills the air, making summertime even sweeter in Springboro. Be sure to try the Boro Beef Baguette!
1572 Roadhouse Bar-B-Q
For a truly unique and delicious outdoor dining experience, 1572 Roadhouse Bar-B-Q in Harveysburg is an absolute must! Located on the grounds of the Ohio Renaissance Festival, its atmosphere is unbeatable. BBQ lovers of all backgrounds love this place for its killer ribs and rustic outdoor seating. Bring the whole family and enjoy some live local music.
Doc's Place
Nestled in Historic Downtown Lebanon, the street view patio at Doc's Place is one of my go-to spots for outdoor dining. Casual and relaxed, it gives you that friendly local ambiance we all crave when traveling.
JD Legends
Part restaurant and part entertainment complex, Franklin's JD Legends takes patio dining to the next level with an outdoor tiki-style bar, sand volleyball courts, a concert stage and more awesome, open-air fun!
Wildflower Café
Locally owned - and locally sourced - Mason's Wildflower Café is loved as much for its gorgeous atmosphere as it is its award-winning food. Home to an inviting outdoor patio surrounded by gorgeous gardens, it's a delicious, nutritious and beautiful place to enjoy some outdoor dining.
Valley Vineyards
The second largest vineyard in the State of Ohio, Morrow's gorgeous Valley Vineyards treats visitors not only to an incredible selection of delicious wines and micro-brews, but also fresh-cooked fare in a breathtaking outdoor setting. Especially enjoyable are its weekend cookouts, where guests are invited to grill their own steak or salmon to enjoy alongside a slew of tasty side dishes and - of course - award-winning adult beverages.
If fresh air, friendly faces, and yummy food are calling your name this summer, Warren County is the place to be. You simply can't beat a relaxing outdoor patio after a long day of adventure in Ohio's Largest Playground! Unwind and dine at any of the area's incredible restaurants, and be sure to tell your host, "Patio please!".