Pizza of the Playground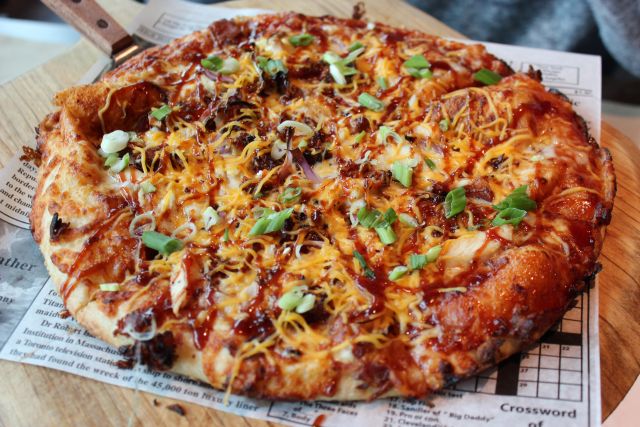 Blog by Mary Fessler
Everyone has different tastes, but it recently occurred to me that I have never met anyone who doesn't like pizza! Luckily for those visiting (or living in) Warren County, we have lots of options.
Thin crust or thick, veggies or meats, traditional or gourmet, our locally owned and operated pizzerias have something for every pizza connoisseur. Here are some highlights:
Located in historic Waynesville, Bentino's Pizza has been a local fave since 1998. Bentino's makes their dough from scratch daily and tops it with homemade pizza sauce and fresh ingredients. Three pizza size options mean you can order individual faves (8") or share (12" or 16"). I would categorize this crust as hand-tossed – not super thin crust and not deep-dish. Personal favorites include "Meat Madness", "The Greek", and "Deluxe". We start every meal with an order of their Garlic Knots – delish!
Aponte's, located in Mason, features Jersey style pizza. They make their dough fresh on the premises each day and it's hand tossed when you order! My colleagues and I enjoyed their "BBQ Pizza", featuring pulled chicken, feta, celery salad, tomato, and alfredo sauce. One of the more unique options is the "Key West", which includes pink shrimp, feta, spinach, sun-dried tomato, and mozzarella. Perhaps a true sign of a good pizza restaurant is, when even with the simplest ingredients of fresh tomatoes and sausage, the pizza tastes great. That is certainly the case here.
Two Cities is also located in Mason. The name "Two Cities" is a nod to the two pizza styles you can order – New York and Chicago. Our staff taste tested four different pizzas (and, admittedly, two appetizers too) and everything was delicious. For the New York crust, the "Miss Brooklyn" was a standout topped with goat cheese, red grapes, roasted walnuts, arugula and a balsamic drizzle. If you prefer Chicago-style, then you might want to try the hearty "Rhythm Road" which includes mashed potatoes, cheddar, mozzarella, red onion, bacon, and sour cream with a scallion garnish.
Other local faves include Mac's Pizza Pub, Pizza-N-Motion, Comets Pizzeria, Chubby's, and A&G. There are also some regional chains with Warren County locations that deserve a shout-out.

Marion's Piazza was founded in nearby Dayton, Ohio in 1965 and has a Warren County location in Mason. This thin crust is affectionately known as "Dayton style". This local chain has been has been rated "Second in the Nation of Independent Pizza Establishments" in Pizza Today Magazine. In addition to traditional toppings, a local fave is the ham & sauerkraut.
LaRosa's Pizzeria was founded just south of Ohio's Largest Playground in Cincinnati in 1954 and has multiple locations in Warren County. LaRosa's offers traditional thin, crispy pan, hand-tossed, and multigrain honey wheat crusts. Many locals got their first taste of LaRosa's at Kings Island Amusement Park and still prefer their traditional thin pepperoni or cheese pizza.
Is your mouth watering yet? Then time to plan a getaway – that's not far away – to Warren County, Ohio! Your taste buds will thank you!!!