Fall-time Festivals in Ohio's Largest Playground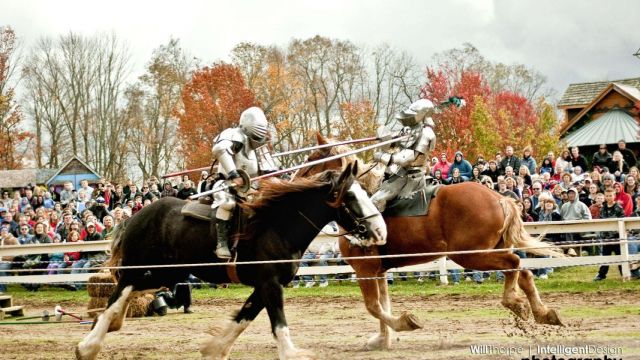 Blog by Stacha Yundt
The official start to the season might not be for a few weeks, but for many Labor Day Weekend signals the beginning of Fall. Even if you're not quite ready to say goodbye to summer-time fun just yet, it's never too early to make a list of this season's can't-miss autumnal activities.
Fall isn't just the season of changing leaves, it's also festival season and weekend plans have never been easier to come up with – especially here in Warren County!
First, grab your best medieval get-up and get hungry for turkey legs: The Ohio Renaissance Festival returns for its 34th season beginning Labor Day weekend! The 30-acre recreated 16th Century English village will open its gates September 2nd and run weekends through October 29th. Guests can explore the village while interacting with more than 150 costumed characters, from wandering minstrels to the Queen herself! Peppered in between one-of-a-kind shopping and mouth-watering food are almost 50 unique shows with multiple performances every day. Cheer on your knight (and boo the competition) during the joust and get ready for a little fire with the Kamikaze Fireflies! Costumes aren't required to enjoy the Renaissance Festival, but there are plenty of chances to get creative across nine themed weekends.
Bring your appetite to Waynesville October 14th and 15th for the annual Ohio Sauerkraut Festival.
More than 400 vendors from 25 states will set up shop in Ohio's Largest Playground for the weekend to bring their homemade goods to this small town and making this event one of the most mouth-watering of the year! Have you really had sauerkraut until you've experienced it as ice cream? More than 50 years of tradition says no.

Speaking of this small town, the Waynesville Fall Fest provides the perfect opportunity to explore more local vendors weekends from September 16th-October 29th. In addition to a little small-town shopping, get lost in the corn maze for a while, take a relaxing ride on the Fireside Trolley, and more!
For a craftier festival experience, head to the Warren County Fairgrounds for the Lebanon Country Applefest, a two-day arts and crafts festival September 23rd and 24th. This family-friendly event features dozens of vendors, scrumptious eats, shopping and entertainment.
In historic Dontown Lebanon, Feast and Fall-y is a one-day opportunity to enjoy another round of shopping and those can't-miss festival foods on September 23rd. Then, on October 13th & 14th, downtown Lebanon welcomes another fall-time festival when the Lebanon Oktoberfest presented by Molson Coors returns for its 10th year.
There's no shortage of fun this fall in Warren County – so come on out and experience it for yourself!