Satisfy Your Sweet Tooth in Warren County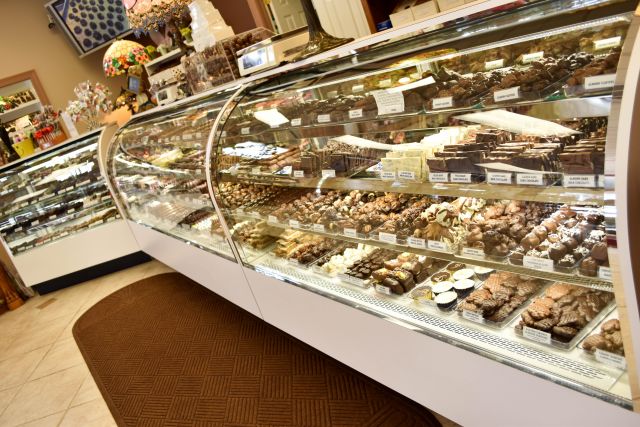 Blog by Scott Hutchinson

Whether your weakness is for fresh-baked cookies or homemade pumpkin pie, there's something about the holiday season that makes eating sweets, well – even sweeter. Fortunately, if you're planning a trip to Warren County, you'll have your sugar cravings covered. Here's where to head if your sweet tooth strikes in Ohio's Largest Playground.
Golden Turtle Chocolate Factory
Like a Warren County Willy Wonka, the Golden Turtle Chocolate Factory has been selling made-in-house truffles, caramel bars, toffees and more from its charming little Lebanon shop for years. While there's no wrong item to order from its tasty collection of treats, the factory's Texas Tortoises are a favorite among its loyal customers – one of whom is film icon and Cincinnati native Steven Spielberg!
Waynesville Candy Shoppe
Housed in a historic, 200-year-old storefront in the Village of Waynesville, The Waynesville Candy Shoppe whips up a mouthwatering array of homemade chocolates and candies, plus some of the richest, most delicious fudge you'll ever try. From mint chocolate to marshmallow, there isn't a fudge flavor you won't find at this charming Waynesville sweetery.
Friesinger's Fine Chocolates
Friesinger's Fine Chocolates has been around since 1894, so it's no surprise they make their tasty homemade treats the old-fashion way. Famous for their nuts as well, the Springboro sweet shop is the perfect spot to satisfy those sweet and salty cravings.
Anna's Gourmet Popcorn
Located in Lebanon, Anna's serves up bags, tins and even two gallon buckets of deliciously flavored popcorn perfect for on-the-go snacking or holiday gifts! Whether you're a classic butter fan or craving something crazier like blueberry or even Cincinnati chili flavored popcorn, there's a fresh-popped treat with your name on it at Anna's.
Dine-in Desserts
While Warren County's candy shops are more than enough to satisfy even the strongest of sweet teeth, I'd be remiss if I didn't mention the delicious desserts you'll find in many of the county's locally owned eateries. The Village Family Restaurant's peanut butter pie and Sister Lizzie's Shaker Sugar Pie at the iconic Golden Lamb have all earned local praise and aren't to be missed.