Small Town Shopping in Warren County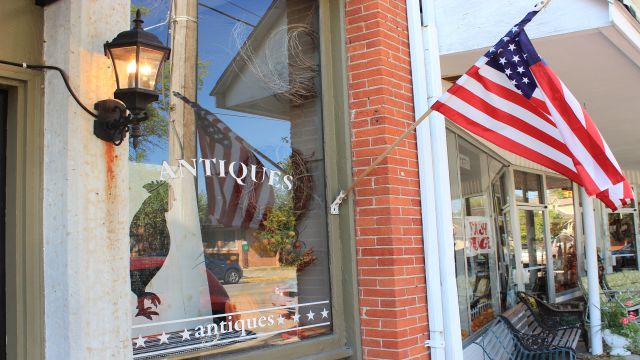 Blog by Scott Hutchinson

In a world of big box stores and www-dots, there's something refreshing about a trip to the corner shop. Smaller, locally owned businesses not only afford visitors a more intimate and memorable shopping experience, but also give them a chance to land those one-of-a-kind items not often found on the shelves of mass retailers. Home to more than 150 antique and specialty shops, Warren County has fully embraced the "shop small" culture and offers visitors an incredible array of unique, local boutiques.
Once named one of America's Ten Great Places for Browsing for Antiques by USA Today, the charming, tree-lined streets of Historic Downtown Lebanon host a terrific selection of locally owned and operated decor, jewelry, craft, clothing and confections shops, each bursting with small town charm. From Kay's Shoppe – a longstanding fashion and accessory boutique that has called Lebanon home for more than 50 years – to the sweet, homemade creations of The Jam & Jelly Lady and Golden Turtle Chocolate Factory, fantastic finds await shoppers around every corner.
Long known as the Antiques Capital of the Midwest, the nearby Village of Waynesville is another must-stop spot on the Warren County shopping scene. More than 40 shops line the main drag of this charming, historic village, peddling everything from art deco to 70s kitsch to antique advocates and novice collectors alike. Visitors flock to the Fabric Shack for its endless collection of sewing, quilting and craft materials, and peruse its dozens of neighboring boutiques for the perfect additions to their kitchens and closets. Modern retailers are also on the bill in Waynesville for those more interested in the trends of today.
Elsewhere in Warren County, Magnolia's on Main and Shoppe Smitten are just two of a handful of hot spots in Springboro, Ohio, while Mim's Off Main and several other locally beloved boutiques make Downtown Mason's shopping scene equally exciting. Numerous farmer's markets, flea markets, art galleries and more round out the county's small town shopping experience.
Whether you're checking off those holiday wish lists or going on a shopping spree of your own, you're sure to find exactly what you're after - and so much more - in the small town shops of Ohio's Largest Playground! Get the scoop on all of Warren County's locally owned retailers here.