Boutique & Unique Accommodations in Warren County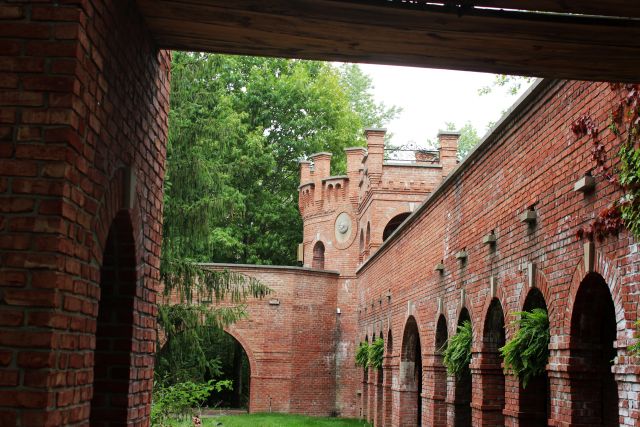 Blog by Carol Monnin
I am never one for spending long hours in hotel rooms when there's so much fun to be had on vacation, but at many of Warren County's hotels and B&Bs, your lodging truly adds to your adventure.
The night my husband and I spent at Great Wolf Lodge rated a "10". Leaving our cares at the door, we entered an incredible building with 80 degree weather, water slides, a spa, themed rooms, a game room, and numerous restaurants. While our bedroom was romantic with a fireplace and whirlpool, the lodge also felt like the perfect place for a family reunion, especially with the grandchildren.
Equally unique, Brian Manor B&B began as a hobby for owner, Christopher Brian, who has been laying bricks for this castle just north of Lebanon, Ohio for over 20 years. Our suite overlooked the Manor's beautiful gardens. We walked the paths that stretched throughout the property, climbing the winding steps of its towers, overlooking the gardens from the wall walk, visiting the art room, and enjoying breakfast in the courtyard.
The Kirkwood Inn offered more of a country experience. Its garden walking paths, refreshing pool, and free breakfast buffet were just the right ingredients for serenity and balance. The Inn is also close to some of my favorite restaurants, Wildflower Café and Banana Leaf in Mason.

My husband and I spent one of our anniversaries at Hardy's B&B. There were three different buildings to choose from, and a massage therapist was available through advanced booking.

Built in 1815, Wright House B&B is the oldest home in the historic town of Springboro, Ohio. A documented Underground Railroad site, it stands as one of the most authentic slave hideouts in the state.

A circa 1822 stagecoach stop, Hammel House Inn is located in Waynesville, just steps away from more than 50 unique antique shops. The Inn is also close to the Little Miami Scenic River and bike trail.
The Golden Lamb Restaurant & Hotel in Lebanon is Ohio's oldest continuously operating business and one of its most historic sites. Having hosted 12 U.S. Presidents and numerous other famous figures since opening its doors in the early 1800s, the property boasts gorgeous guest rooms, a beautifully decorated dining area, and a newly renovated porch complete with comfy couches, rocking chairs, and flower boxes. Its food will delight any palate and the surrounding town is also quite quaint.
With so many unique places to stay during your weekend getaway, repeat visits to Warren County, Ohio's Largest Playground®, are very much encouraged. Start planning your getaway today!