Take to the Skies in Ohio's Largest Playground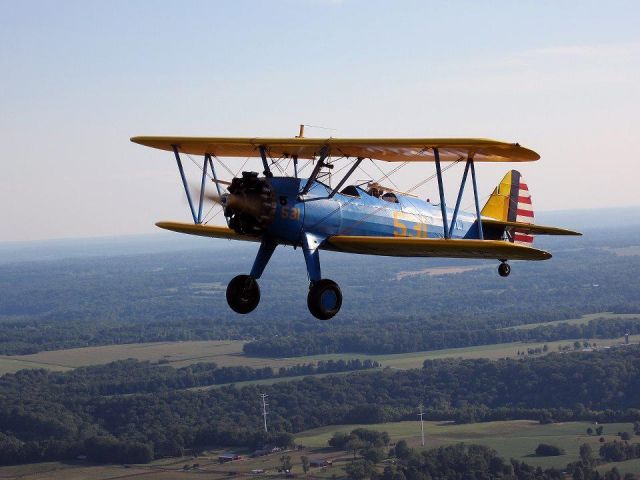 Blog by Jessica Lewis
Looking to take your getaway to new heights? Look no further than the action-packed skies of Ohio's Largest Playground® in Southwest Ohio! Here's where to head for high-flying fun in Warren County.
Red Stewart Airfield
Want a bird's eye view of the Buckeye State? Soar through the skies with Waynesville's Red Stewart Airfield. Offering aerial tours of Warren County in vintage-style airplanes that take off and land from grass runways, the airfield treats its guests to unforgettable aviation experiences that are half history lesson, half adrenaline rush!
Hot Air Balloons
For an even higher vantage point (but lower speeds) book a hot air balloon tour with Gentle Breeze. Located in Lebanon, this highly regarded hot air balloon specialists offer visitors beautiful sunrise and sunset tours of Warren County, perfect for romantic celebrations, family reunions and other special occasions. The view from a balloon basket typically extends for several miles, so passengers are always treated to incredible photo ops–many of which feature unique viewpoints of Warren County's attractions.
Skydive Cincinnati
Adrenaline junkies won't want to miss Skydive Cincinnati in Waynesville! This experience of a lifetime begins with a brief ground school where visitors learn skydiving fundamentals and the correct body positioning for jumps. Then, after ascending in an aircraft to an altitude of 10,000 feet, it's time to jump! Following a 50-second free fall, a scenic parachute flight back to the ground allows for some truly breathtaking views. Bucket list item, anyone?
Ozone Zipline Adventures
Ozone Zipline Adventures in Oregonia gives thrill seekers a chance to gain some elevation while staying a (little) bit closer to the ground. One of the largest treetop canopy zip line tours in the Midwest, Ozone sends outdoor adventurers soaring 200 feet above and across the Little Miami Scenic River! Ozone's impressive course boasts a total of 12 zip lines, each of which treat guests to amazing aerial views of the Ohio Valley year round.
By airplane, balloon, zip line or 'chute, there's an adventure with your name on it in Warren County. Plan your sky-high escape today OhiosLargestPlayground.com!