The City of Mason: Past to Present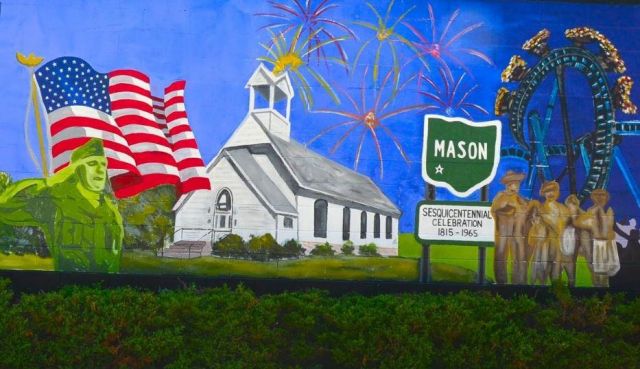 Blog by Mary Fessler

Revolutionary War veteran William Mason gave the city of Mason, Ohio its start when he purchased 640 acres at an 1803 auction. He paid $1,700 for the land between the Great and Little Miami Rivers. In 1815, Major Mason platted sixteen lots on his property and named the village "Palmira" (also known as "Palmyra"). In 1832, two years after the death of William, 40 more lots were platted, but in 1835, village officials were informed that there was another Palmyra in Ohio, so the name was officially changed to "Mason."
Due to its proximity to major cities and roadways, Mason became a trading center at the turn of the century. With the construction of Interstates 75 and 71 in the 1950's and 1960's, the village experienced rapid growth. In 1971, with the population exceeding 5,000, Mason officially became a city. History of the area is preserved by the Mason Historical Society. The Alverta Green Museum, an 1890's Victorian house, is filled with period furniture and artifacts donated by Mason residents.
No discussion of Mason's history would be complete without talking about Kings Island. The idea for Kings Island was conceived in 1964 when Coney Island, a popular amusement park located in nearby Cincinnati, suffered from a major flood. It wasn't the first time, and with limits on space for parking and expansion, the Wachs family (who owned and operated Coney Island) began to explore the possibility of relocating the park. In July 1969, after 5 years of searching for new land and financial backing, the family sold the park to the Taft Broadcasting Company. Taft Broadcasting then purchased 1,600 acres of land in Warren County and Kings Island opened its gates on April 29, 1972. The park quickly gained national attention when two of the most popular TV sitcoms of the time filmed episodes on site: The Partridge Family in 1972 and The Brady Bunch in 1973. Today, the 364-acre amusement park is home to record-breaking roller coasters, a nationally-recognized children's area, and a premier waterpark.
Kings Island was the catalyst for the growth of tourism in Warren County (tourism is the county's number one industry) and for the area's identity as "Ohio's Largest Playground". In addition to Kings Island, Mason is home to Great Wolf Lodge, The Beach Waterpark, the Western & Southern Open (an annual event attracting the top tennis players in the world), and much more.
Today, the city of Mason boasts a population of approximately 31,000 people and 500 businesses -- from locally owned shops and restaurants to international corporations -- and has helped Warren County become the second fastest growing county in the state of Ohio. Mason was recently named 7th on Money Magazine's list of "Best Places to Live" for families among America's small towns. Major Mason would certainly be proud of the positive experiences both residents and visitors have in his namesake city!
Sources: Mason Historical Society website (Sally Sherman Caudill) City of Mason website Kings Island website Historic Warren County: An Illustrated History by Cynthia L. Pauwels Warren County Pictorial History 1800-1990s