The Coasters of Kings Island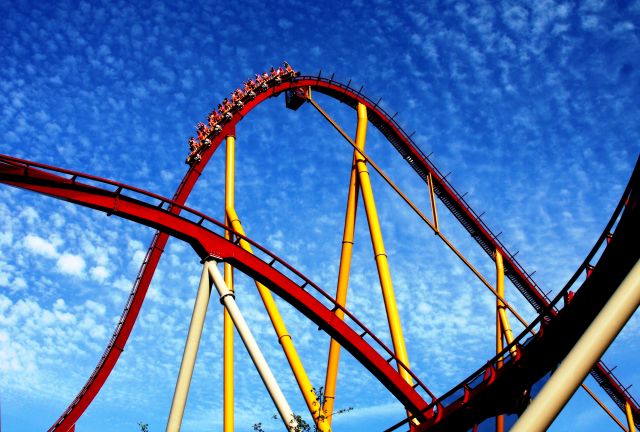 Blog by Scott Hutchinson

Growing up in Mason, Ohio, warmer weather meant two things: Tucker's Whippy Dip was finally open, and Kings Island was the place to be. Living quite literally in the shadows of KI's coasters, my family, friends and I would spend summer night after summer night at the popular theme park, riding everything in sight before finally heading home under the glow of the park's nightly firework shows. While I've watched with nostalgia as a handful of my favorite childhood roller coasters have closed and become rebranded over the years, I've also watched with excitement as new, wilder versions have been raised into the KI skyline. Today, the park's record-breaking collection of rides is as amazing as ever. Here's a longtime local's look at all 11 coasters winding their way through the Warren County theme park.
Diamondback
Originally opened in 2009, Diamondback measures in as the park's second tallest coaster at 230 feet. Incredibly smooth, and boasting numerous heart-dropping hills, the serpent-themed thrill ride has established itself as a fan favorite from day one. One of it's more underrated features: lap restraints are used in place of over-the-shoulder security measures, adding both a level of comfort and intensity to the already awesome coaster.
Adventure Express
While it may not rank among the tallest, fastest or most extreme of Kings Island's coasters, Adventure Express' smooth ride and creepy, cryptic scenery make it a fan favorite – particularly among guests who aren't as keen on some of the park's more intense coasters. Famous for its dark, howling tunnels and climactic, movie-like ending, the wooden and steel coaster is among the park's oldest remaining thrill rides, and has a particularly special place in my heart, as I once spent a high school summer working as an Adventure Express employee.
The Bat
Once named "Top Gun" and decked out in the Tom Cruise movie's memorabilia, The Bat is another oldie-but-goody in KI's coaster collection. Reaching top speeds of 51 mph, the swinging, suspended coaster takes guests high into the sky on a chain lift, before sending them soaring through a maze of twists, turns and embankments to capture the illusion of flying. A smooth-sailing coaster, The Bat is intense enough for thrill seekers, yet gentle enough for those who aren't quite as coaster-crazy.
Banshee
Still a relative newcomer to KI's thrill ride lineup, Banshee is just as intense as its spooky name implies. The single longest inverted coaster in the entire world, Banshee sends its riders twisting and turning through a surprisingly smooth steel course of high-speed hills and loops, and ranks among the world's most beloved rides for many coaster-crazed diehards. While it may be one of the park's newer additions, Banshee has firmly established itself as one of the most popular thrill rides in KI history.

Invertigo
Seating its daring passengers face-to-face, so that they can see one another's on-ride expressions, this twisting, looping, high-speed favorite packs an incredible amount of excitement into its one minute and thirty second ride time.

The Beast
Perhaps no coaster at Kings Island is as deeply ingrained in the park's identity as the iconic wooden monster — The Beast. Celebrating its 41st anniversary in 2020, the Beast clocks in as the longest wooden roller coaster on Earth, and is an absolute can't-miss for coaster fans.
Backlot Stunt Coaster
Originally inspired by the 2003 film The Italian Job, Backlot Stunt Coaster puts riders in the driver's seat of a Hollywood stunt car. Speeding smoothly along its steel track, the coaster treats guests to a dazzling display of Hollywood-style explosions, splash downs and more cinematic effects, as it shoots them through a dizzying helix, aggressive embankments and more high-thrill highlights. If it's a smooth, yet speedy ride you're after, look no further than the Stunt Coaster.
Flight of Fear
Kings Island's only indoor roller coaster, Flight of Fear fires riders off for a dark, disorienting trip through an alien-themed abyss. Complete with more loops, twists and corkscrews than you can count, it's easily among the park's best bets for thrill seekers. An expert tip: Be ready to ride! Flight of Fear launches riders right from the get-go, and the rapid start can be a bit jarring if you aren't ready for it.
The Racer
Much like The Beast, The Racer is an absolute icon of Kings Island. Originally constructed in 1972 and just recently refurbished to its original charm, the wooden giant features two separate tracks, each of which feature their own cars. Once riders have boarded, both cars leave the station at the same time and the race is on! It's another can't-miss classic.
Mystic Timbers
The second newest addition to Kings Island's killer collection of thrill rides, Mystic Timbers boasts a 109-foot lift hill, top speeds of 53 mph and 3,265 feet of wooden track, giving KI more wooden coaster track than any other theme park worldwide! The biggest buzz surrounding the cryptic coaster: what's in the shed at the end? Ride it yourself to find out.
Orion
King Island's newest colossal coaster - Orion - is a record-breaking wonder unlike few thrill rides worldwide. One of just 7 "giga" coasters on Earth, Orion measures in at 300 feet tall, 91 mph and 5,321 feet in length, making it Kings Island's tallest, fastest and longest steel roller coaster ever.
Ready to experience these coasters for yourself? Plan your Kings Island adventure - and all of your Warren County fun - right here on OhiosLargestPlayground.com!