The Inside Scoop: Ice Cream in Warren County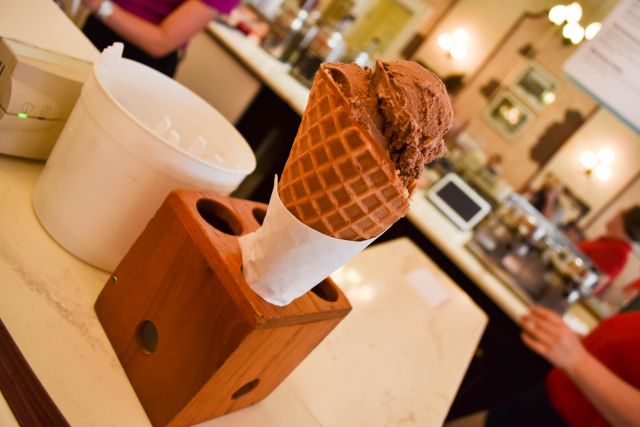 Blog by Scott Hutchinson

When the steamy Midwest summer has you aching for a cup or cone of your favorite frozen treat, look no further than Warren County. Home to a number of incredible ice cream shops, Ohio's Largest Playground® is sure to hit the sweet spot! Here's the scoop on six local standouts.
Tucker's Whippy Dip
Want a twist cone with sprinkles? You've got it! Want it to look like an elephant? You've got that too! In the heart of downtown Mason sits Tucker's Whippy Dip, a lively, two-window storefront that serves up everything from classic soft serve to artfully-crafted, animal-shaped creations. Lines form quickly in the summer months, as both locals and visitors relax on the shop's umbrella-shaded front patio, cones in hand. Conveniently priced and always tasty, Whippy Dip is as good a choice as any for your ice cream fix.
Mr. Frosty
An ice cream landmark founded in 1963, Franklin, Ohio's Mr. Frosty keeps it simple, serving up real dairy soft serve to crowds of hungry customers. Ready for the twist? They're also known for their pulled pork sandwiches and other hearty lunch options. Whatever you're craving, savory or sweet, hot or cold, Mr. Frosty makes for an awesome summertime stop.
The Village Parlor
If it's the full ice cream experience you're after, The Village Parlor in Historic Downtown Lebanon is the place to go. Since opening its doors on Independence Day in 1969, the old fashioned soda fountain has served up both classic ice cream creations and award-winning burgers, all while maintaining its uniquely vintage atmosphere. Whether it's a malt, float, sundae or sandwich you're looking for, you're sure to find something that'll hit the spot.
Whipty-Do!
Soft serve, sundaes and handmade shakes are only a small sampling of this Maineville hot spot's cool, creamy creations. Also home to more out-there offerings like Arnold Palmer floats, chocolate-covered bananas, Nutella waffle cones and Pineapple Dole Whip Floats, Whipty-Do! ranks among Southwest Ohio's tastiest - and most creative - ice cream shops.

Graeter's
Ask around town and you'll quickly learn that the name Graeter's is synonymous with ice cream in Ohio. Originally founded in 1870, the Cincinnati-based brand has since spread its reach throughout the nation, gaining a dedicated following of sweet-toothed fans along the way. Its unique production process, known as the French Pot method, churns out notably thick ice cream in a variety of tasty flavors, ranging from classics like chocolate and vanilla to my personal favorite, Black Raspberry Chip. Its Mason, Ohio shop is conveniently located just minutes from a number of Warren County's most popular attractions and serves up everything an ice cream lover could ever want!
Whit's Frozen Custard
Ice cream, frozen yogurt, custard…they're all basically the same, right? Not so fast. Whit's Frozen Custard, located just two doors down from The Village Parlor in Lebanon, serves a unique brand of frozen treat that's…well…custard-y. Typically featuring two weekly flavors, plus a handful of every day options, Whit's blends any of its custards with your choice of tasty toppings (peanuts, gummy worms, you name it) to create cool, customizable treats.