5 Awesome Attractions for Travelers with Toddlers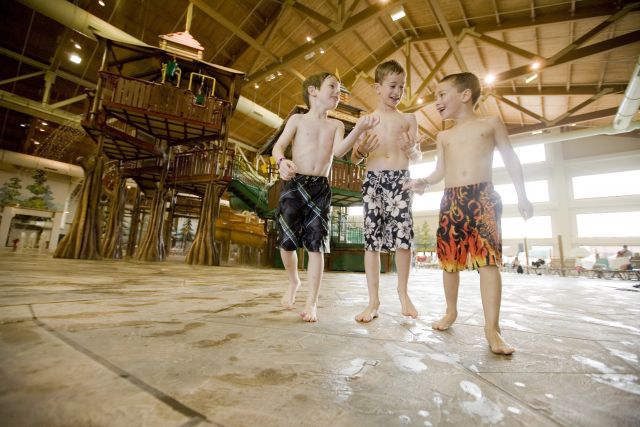 Blog by Mary Fessler
It has been a while since I had a toddler in the house, but as I was reviewing area attractions for the younger set, it was nice to see that some old faves are still drawing the 3 foot and under set. And there were lots of, "gee, I wish that had been around when my son was younger…" moments. So, based on personal experience, observation, and feedback from friends, here – in no particular order – are what I consider to be Ohio's Largest Playground's Top 5 for Toddlers:
LM&M Railroad
This was a personal fave for my family when my son was younger. As train fans, we rode just on normal weekends for something different to do. Then when they introduced their fall pumpkin and Santa rides, we just had to do those as well. The seasonal rides – Easter Bunny Express, Pumpkin Patch Express and North Pole Express – are quite popular and offer a nice old-fashioned way to enjoy the holidays. The character trains can change from year to year. Recent specialty trips have featured Curious George, Clifford the Big Red Dog and, of course, Thomas the Tank Engine. A nice bonus is the fact that the train rides start and end in historic downtown Lebanon, Ohio.
King Island
Kings Island in Mason, Ohio is home to some of the best coasters and thrill rides in the country. But did you know that its kiddie area has been voted the best in the WORLD 17+ years by Amusement Today magazine? This kid-centric area features an array of PEANUTS-themed rides, attractions, and shows along with meet-and-greet opportunities with Snoopy, Woodstock, Charlie Brown, and the rest of the gang. Admission to Kings Island includes entry into the adjacent Soak City Waterpark (no need to even move the car, a train takes you back and forth from each park – that's right, a train!). Soak City has some awesome areas just for the little ones
Little Miami Scenic River
We have always enjoyed the peace and tranquility that a day of canoeing brings. Once we started taking our son along, we started noticing the wildlife more. He was fascinated by seeing the rows of turtles sunning on logs in the water. On one trip, a beautiful Heron was flying just in front of our canoe. He seemed to land and wait for us to catch up before taking flight again. It was as if we had our own tour guide leading us down the river. There are several canoe liveries along the river which, by the way, is one of just 156 American rivers designated by the U.S. Congress or Secretary of the Interior as a National Wild and Scenic River. Each offers a different assortment of canoes, kayaks, and rafts and all have various sizes of life jackets to keep everyone safe.
Bonnybrook Farms
Bonnybrook Farms is located in Clarksville, Ohio on the southeastern edge of Warren County. Seasonal activities include their very popular Chuck Wagon Dinner rides in the summer, Fall Farm Days and Lantern Light Wagon Ride & Corn Maze in the autumn. A trip to Bonnybrook Farms is a great break from the hustle and bustle of everyday life, especially if you are city dwellers. Farm animals, Clodhopper Golf, Giant Slingshots, an 80' underground slide, fishing pond, wagon rides – the list of family-friendly fun goes on and on.
Great Wolf Lodge
So this is one of those places that I wish was around when my son was younger. It is amazing! I am a Disney fanatic and tend – much to the chagrin of my family and friends – to compare everything to the Disney standard. The first time I walked into the Great Wolf Lodge in Mason, Ohio I said, "wow, this is Disney quality". That statement was made based on the incredible theming, cleanliness, and attention to detail I observed, as well as the wide variety of activities. Most people, I think, are familiar with the waterpark aspect of the Lodge, but I was surprised by the room theming, arcade, MagiQuest, bowling, mini golf, and special lobby activities. And did I mention there is a spa for kids? There is a LOT to do here! It is a self-contained getaway (but if you want/need more, it is right next to Kings Island).