Treasure Hunting at Traders World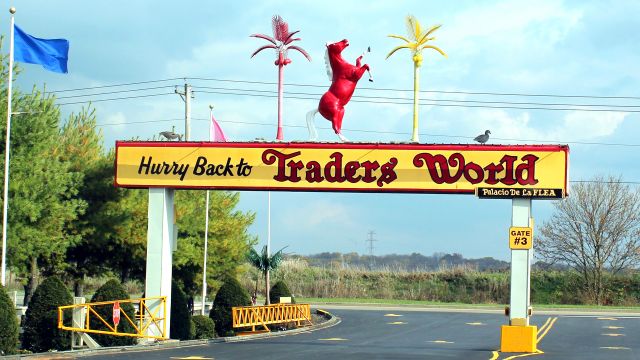 Blog by Carol Monnin

If you've ever driven by Traders World in the wonderful town of Lebanon, Ohio, you know it's awfully hard to miss. Colorful flags, signage and even enormous animal statues line its entry way, inviting curious passerbys in for food, shopping and more excitement. Alluring as it is, my husband and I realized on our last trip through town that it had been years since we'd stopped by the old I-75 standby. In the mood for an adventure, we picked out a day, made the trip and were blown away with what we found. Here's the scoop on our flea market fun at Traders World.
To put it quite simply, Traders World sells just about everything under the sun. Looking for a Halloween costume? They've got you covered. How about an oil painting, vacuum cleaner, power tools or Tupperware? Yep, they've got all that too. There's even a barbershop, a bridal shop and a fresh produce market!
Traveling with an avid reader or music lover? I lost my husband in more book and record shops than I could count. Shopping for the kids or grand-kids? You'll find one-of-a-kind toy and game vendors around every corner.
One of the site's 16 buildings even has an enormous furniture selection, bursting with hand-crafted beds, couches, tables, chairs, bar stools and more. We had a ton of fun in the outdoor concrete statuary where planters, benches and statues of every sort were being sold.
Even if you aren't much of a shopper, don't let that keep you from paying Traders World a visit. Its food and entertainment offerings are still well worth the trip!

Have a car lover in your crew? Old-time antique hot rods, trucks and buggies are on display all throughout the market. How about a little one who loves animals? They offered pony rides the day we visited.

Delicious hand-churned ice cream, fresh-baked cookies, hamburgers, fried chicken and pizza were just a sampling of the market's enormous food selection. My husband and I decided on a piano bar spot for lunch, which was tasty and full of energy! Great live music and a German-inspired spread of sausage, sauerkraut and potato salad was the perfect way to wrap up our afternoon.

I could truly go on for hours, but to keep things concise - Traders World is an affordable and wildly unique experience unlike anywhere else I've been. Its festive exit sign reads "Hurry Back!" and I most certainly will!