Waynesville: Come for the Sauerkraut, Stay for the Ghosts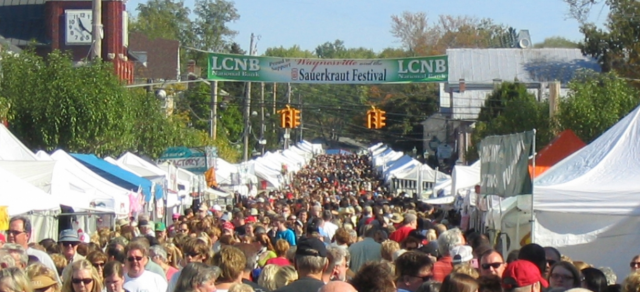 Blog by Stacha Yundt
Autumn signals the arrival of a few different things: pumpkin patches, apple cider, haunted houses, and more. But autumn isn't just the season of crunchy leaves: it's also festival season.
Nobody does festivals quite like the city of Waynesville right here in Warren County. Weekends beginning Labor Day, the sound of swords clashing and enthusiastic "Huzzahs!" can be heard echoing from Renaissance Park during the Ohio Renaissance Festival. But there's another festival hosted by this small town that draws in thousands of visitors every year and it's centered around one thing: sauerkraut.

The Ohio Sauerkraut Festival first began in 1970 as a sidewalk sale hosted by the Waynesville Retail Merchants when it was decided that a sauerkraut dinner would be served alongside the event. That year, about 500 pounds of sauerkraut were served to more than 1500 visitors, and a new tradition was born. Still hosted in October over 50 years later, today the weekend event attracts more than 300,000 visitors looking to sample the festival's sauerkraut concoctions, including sauerkraut pizza.
It's not just the food that keeps the crowds coming (though that sauerkraut ice cream really is a must-try). Already a hot-spot for small town shopping, 450 craft booths are erected in Waynesville during the event for guests to shop while they eat and explore historic downtown Waynesville.
Older than even the state of Ohio, the Village of Waynesville is sometimes called the Antique Capital of the Midwest. When not filled to bursting with sauerkraut booths, the main strip in downtown Waynesville offers a shopping experience unlike any other, and with the holiday season just around the corner, you're sure to find unique gifts among the shelves. Hubs like The Village Salvage and Past Perfect Antiques are both filled with an assortment of antique items from salvaged doors and hardware to decades-old campaign buttons. Other shops, like The Kindred Nest, create more of a boutique experience with a more modern, but still one-of-a-kind, selection.
Antiques and sauerkraut aren't the only things attached to Waynesville's reputation. Like many old towns, Waynesville is believed to be haunted — in fact, it's believed to be one of the most haunted towns in Ohio. Visitors who find themselves here in October for the Sauerkraut Festival may also want to take advantage of the season and learn about the ghostly history surrounding the village. The Museum at the Friends Home, a non-profit history museum, even hosts a Ghost Walking Tour.
Whether you come for the food, the shopping, the ghosts or all of the above, the Village of Waynesville is a must-stop for any visitor to Ohio's Largest Playground. Let's get out and play, Ohio.