What's Poppin' at Anna's Gourmet Popcorn?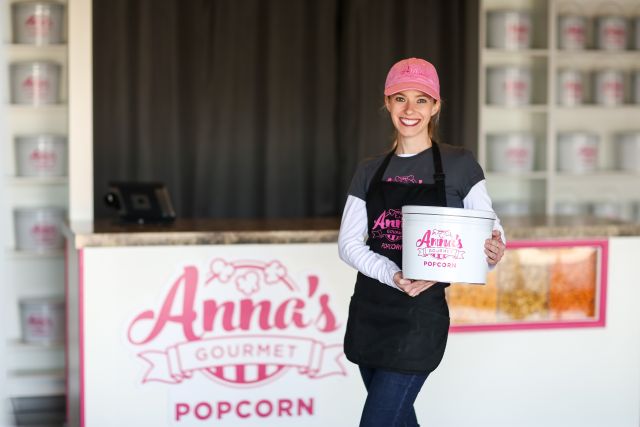 Blog by Lindsey Haney
Southwest Ohio's shopping scene is stacked with a slew of unique, one-of-kind finds, but when it comes to foodie-focused shopping, few of its stores are as sweet (or savory) as Anna's Gourmet Popcorn in Warren County. Located in the heart of Historic Downtown Lebanon, Anna's has a corner (it's literally located on the corner of Broadway and Mulberry) on popcorn in town! Serving up a huge selection of fresh, colorful and creative popcorn varieties, ranging from classic cheddar cheese to Cincinnati Chili and Pina Colada, Anna's has become a hit with popcorn cravers of all types since opening for business in 2016. Having heard nothing but rave reviews about the popular popcorn peddler, I decided to stop in to get the inside scoop! Anna herself - founder Anna Donovan - was kind enough to share just a bit of her story.
Popcorn is such a classic, beloved snack, but also such a unique business to get into! Where did this all begin?
This all started with the opening of my very first shop in Maineville back in 2016. Long before that, I actually worked for a flavoring company for around 10 years where I helped flavor all kinds of different drinks.
With that background in flavoring, I'm sure you have a blast playing around with your own unique popcorn flavors. Where do you get your inspiration for fun, new recipes?
When I'm thinking up new flavors, I always like to keep an eye on what's trending. At the same time, though, I try my best to make those trending flavors my own. And, as you said, I definitely take some inspiration from my years working with flavored drinks as well. I get a lot of customer suggestions too!

I'm sure you get this question all the time, and I'm sure it's hard to decide, but I've got to know: What's your favorite of all of your flavors?
I'll give you one savory and one sweet! I love the Garlic Parm Rosemary flavor, and the Caramel Apple flavor that we typically sell in the fall. We have seven year-round flavors, and then we have two monthly flavors that rotate. This month, for example, we have Salt & Vinegar and Orange Cream.
What's the best part of running your own gourmet popcorn business?
I really just love being a part of this community. The more you reach out to people, the more they reach out to you. Being involved in Lebanon and Warren County is a big deal to me, and I've found my business is a great way to do that.
Being so involved in the community, I'm sure you've experienced many of the awesome attractions and events here in Ohio's Largest Playground. What's one favorite you might recommend to visitors?
Here in Lebanon, I love going to our Feast & Fall-y event every year! I just think the way they set the festival up is really, really cool, and it gives you a good taste of the community. I also love the Girls Night Out events we have here. Everyone always has so much fun!

Want to experience Anna's Gourmet Popcorn for yourself? Plan your visit to Downtown Lebanon - and all of your Warren County fun - right here on OhiosLargestPlayground.com!