10 Ways To Celebrate Spring In Warren County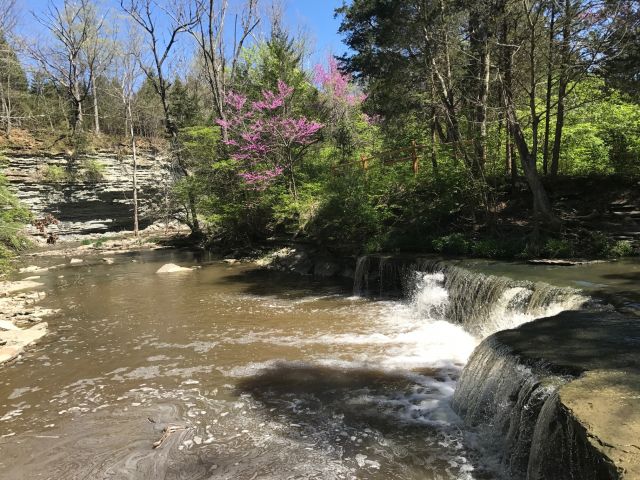 Blog by Scott Hutchinson

The birds are chirping, the weather's warming up and winter's officially on its way out of Warren County! Gearing up for a springtime escape to Ohio's Largest Playground®? Be sure to have these 10 awesome experiences on your to-do list:
1) Conquer record-breaking roller coasters
Home to the world's longest wooden roller coaster (The Beast), the world's longest inverted roller coaster (Banshee), one of 7 'giga' coasters on earth (Orion) and a slew of other incredible rides like the award-winning Mystic Timbers and nostalgic Kings Mills Antique Autos, Warren County's flagship amusement park, Kings Island, opens its gates to coaster-crazed adventure seekers every spring!
2) Take a ride on the railroad
Traveling with a train lover? Climb aboard the Lebanon, Mason & Monroe Railroad this spring for a nostalgic, old-time adventure! Particularly popular this time of year are its Easter Bunny Express outings – seasonal weekend rides that are perfect for travelers with tots.
3) Soar through the sky
Spring is one of the most gorgeous times of year in Southwest Ohio, and there are few cooler places to take in its beauty than from high above the Warren County wilderness. One of the largest treetop canopy zip line tours in the Midwest, Ozone Zipline Adventures sends thrill seekers soaring 200 feet into the sky and directly over the Little Miami Scenic River.

4) Kayak or canoe the Little Miami
Speaking of the Little Miami, the Warren County waterway is also a super spot for boating! Rent a kayak, canoe, raft or tube from any of the area's outfitters and float the day away on the relaxing, recreational river.
5) Bike along the riverside
More of a two-wheeling type? The Little Miami Scenic Bike Trail winds along the river's banks for miles, leading bikers and hikers through tree-shaded stretches of wilderness, charming small towns and wide open countryside.
6) Take a hike through Caesar Creek
Warren County's outdoor excitement doesn't end there! Highlighted by a sprawling recreational lake, scenic waterfalls, rock gorges rich with fossils and wildlife galore, Caesar Creek State Park is the perfect place to do some springtime exploring.
7) Discover Fort Ancient
The best-preserved prehistoric hilltop enclosure in the United States, Oregonia's Fort Ancient Earthworks & Nature Preserve boasts more than 2,000 years of Native American lore and some of Southwest Ohio's most breath-taking trails, making it a must-stop spot for both history buffs and hikers. Also home to numerous varieties of wildflowers, it's especially beautiful in the spring.
8) Plan a small-town shopping spree
Looking to do a little springtime shopping? Stroll the small-town streets of Lebanon, Waynesville, Springboro and other charming communities to stock up on one-of-a-kind finds from more than 100 locally owned antique, boutique and specialty shops.
9) Book a tee time
From its quiet, serene landscapes to its relaxing, low-key pace, few outdoor activities capture the true essence of a springtime getaway quite like the game of golf. Get your fairway fix at Warren County's gorgeous golf facilities.
10) Cook out at Valley Vineyards
What tastier way to welcome in the spring than by cooking out? Valley Vineyards, Warren County's award-winning winery and microbrewery, hosts incredible weekend cookouts year round where guests are invited to grill their own steak or salmon to enjoy with tasty sides, desserts and – of course – beer and wine.