A Full Year of Fun Awaits in Warren County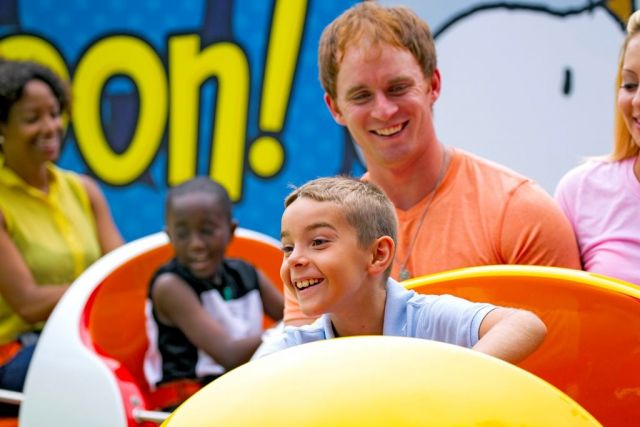 Blog by Scott Hutchinson

Whether you're planning a wintry weekend getaway, a springtime escape, a thrill-filled summer vacation or a colorful autumn outing, excitement abounds year-round in Ohio's Largest Playground®! Hoping to plan a visit in the year ahead? Here's a month-by-month look at just a handful of the awesome events and attractions that keep Warren County hopping all year long!
January
The winters may be chilly in Southwest Ohio, but that doesn't mean you can't come out and play! Strap on your boots and explore more than 79,000 acres of Midwestern wilderness at Caesar Creek State Park. Discover trinkets and treasures galore at Lebanon's annual Antique Show & Sale. Lead your pack to Great Wolf Lodge to catch a break from the cold in its incredible 84-degree indoor water park. There are few cooler ways to jump-start your year than with a January trip to Warren County.
February
Home to Valley Vineyards' award-winning wines, Miami Valley Gaming's slots and splendor, a terrific array of cozy B&Bs and an impressive collection of local dining gems, Warren County's the perfect place for a grown-up getaway. Make Valentine's Day one to remember with some February fun in Ohio's Largest Playground!
March
As February gives way to March, a whole new season of outdoor adventure springs to life in Southwest Ohio! Celebrate the start of spring by exploring more than 2,000 years of Native American history at Fort Ancient Earthworks and Nature Preserve or soaring through the skies at Ozone Zipline Adventures – one of the Midwest's largest treetop canopy zip line attractions.
April
Each and every April thousands of coaster-crazed amusement park fans flock to Warren County for the opening of Kings Island – one of the nation's largest and most beloved amusement and water parks. Theme parks not your thing? Not a problem! Celebrate the season with a nostalgic, old-time train ride aboard the LM&M Railroad's Easter Bunny Express, or enjoy delicious beer and hilarious jokes from local and nationally known comedians at the annual Lebanon BrewHaHa.
May
Have an antique hunter or animal lover in your group? Highlight May on your calendar! Widely regarded as the Antique Capital of the Midwest, Warren County's historic Village of Waynesville holds its annual Old Main Street Antique Show every May. If it's old-timey treasures you're after, you won't want to miss it! Meanwhile, just a short-drive south of Warren County, the Cincinnati Zoo & Botanical Garden flaunts its newborn furry friends each May at its month-long Zoo Babies celebration!
June
June not only marks the start of summer in Warren County, but also the beginning of festival season! Sip samples of award-winning wines and micro-brews at Valley Vineyards' Annual Wine & Beer Festival. Break out your cowboy boots and get to stomping in the streets at the Lebanon Country Music Festival. Honor old-time, medieval Europe with era-inspired food and fun at Celtic Fest Ohio. No matter your niche, you'll find a reason to celebrate June in Warren County!
July
Looking for some good old-fashioned fun on the farm? You'll find 370 acres of it at Bonnybrook Farms! Home to wagon rides, down-home dining, giant slingshots, fishing, animal petting and more family-friendly fun, the beautiful Clarksville, Ohio hideaway is especially beloved for its Chuck Wagon Dinner Rides, which get rolling in July.
August
Traveling with a sports fan? Plan your Warren County adventure for the end of summer! Each August Mason's Lindner Family Tennis Center proudly plays host to The Western & Southern Open, one of the most prestigious professional tennis events in the world! Known for its fan-friendly nature, the Warren County tournament routinely brings fans face-to-face with the game's biggest stars!
September
As Ohio's steamy summer gives way to a cooler, colorful fall, festival season really gets rolling! Escape to a world of jesters, jousters, kings and queens at the Ohio Renaissance Festival. Dig in to apple-inspired eats and explore aisles of arts and crafts at the annual Country AppleFest. Shop for handmade trinkets and treasures while sampling local fare in the streets of historic Downtown Lebanon at Feast & Fall-y. If it's festive (and foodie) fun you're after, September's a terrific time to visit!
October
If there are two words that best describe October in Ohio's Largest Playground they're food and frights! For nearly 50 years the Village of Waynesville has celebrated Ohio's rich German heritage with arts, crafts, brews, bratwurst and an unbelievable array of crazy sauerkraut creations at its annual Ohio Sauerkraut Festival! Interestingly enough, Waynesville is also regarded as one of the nation's most haunted villages, making it even more intriguing to fall-time travelers. Seeking more spooky fun on your October visit? Don't miss Kings Island's Halloween Haunt or Harveysburg's Brimstone Haunt – two of the Midwest's most spine-tingling Halloween draws.
November
As the weather takes a turn for the cooler each November, Warren County's wintertime attractions keep the good times rolling! Kings Island's Winterfest, Great Wolf Lodge's Snowland and the LM&M Railroad's Northpole Express all open their doors in November, treating guests to everything from high-thrill roller coaster rides to heartwarming Santa Claus encounters.
December
Looking for an escape from the hustle and bustle of the holiday season? Warren County's got you covered! Charming holiday celebrations like Waynesville's Christmas in the Village and Lebanon's Horse-Drawn Carriage Parade & Christmas Festival put the perfect finishing touches on yet another year of fun in Warren County!