A New Way to Play: #OLPGeoTour Comes to Warren County!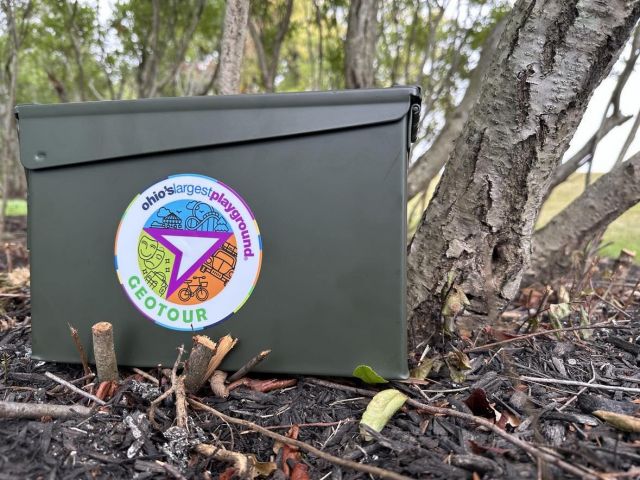 Blog by Stacha Yundt

(GeoTour Launches Friday, October 20 at 10 AM!)

Scattered across Warren County's cozy small towns, outdoor spaces, historical landmarks, iconic attractions & more, 15 geocaches have been carefully hidden just waiting to be found!
Geocaching is a popular (and free!) outdoor adventure game that encourages players to hunt for hidden containers (called geocaches) hidden all over the world. Plenty of these caches are right here in Warren County, and we've just added a few more to the mix!
The Ohio's Largest Playground GeoTour brings players on a tour across Warren County. Players will visit charming small towns, explore some of Warren County's best outdoor spaces, a few of our most iconic historical landmarks & more as they hunt for 15 unique geocaches. Every stop brings players to a new place worth exploring (with plenty of opportunities to chow down at local restaurants or enjoy a refreshing beer at one of Warren County's many craft breweries along the way).

Intentionally designed to be family-friendly and featuring (we hope!) some fun cache containers, the #OLPGeoTour is perfect for seasoned cachers as well as those brand new to the game. As a bonus, each of the geocaches includes a unique password. Players who find each cache along the tour and complete their Passport can return it to the Warren County CVB (via mail or in-person Monday through Friday, 9 AM to 4:30 PM) and receive a souvenir GeoCoin as a prize! For geocachers who enjoy trading trackable items, each of the souvenir GeoCoins comes with its own tracking code.

Getting Started

Download your preferred Geocaching app. While it's true that some geocaches are available to Premium members only, every cache along the #OLPGeoTour is completely free to access and enjoy. Next, visit tour GeoTour landing page to start planning out your adventure. The #OLPGeoTour runs year-round, so feel free to complete the tour in your own time and at your own pace. Many of the geocaches along the tour are large enough to hold small, tradable trinkets. Add to your fun and bring along some things to trade as you go along, and don't forget to bring a pen! Happy caching!