Caesar Creek State Park: For the Adventurer In Us All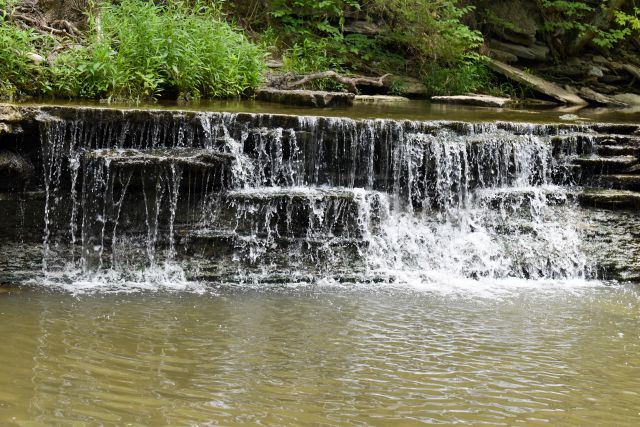 Blog by Amy McKee
The first time I visited Caesar Creek State Park in the Warren County city of Waynesville, I had almost no idea what to expect. As far as I knew, I was simply going to meet a park naturalist and take a few photos. Little did I know that the next two days would turn out to be so much more. The first thing that really boggled my mind was the monstrous size of the park; Caesar Creek hosts more than 79,000 acres of raw, natural beauty. The serenity of the woods that surrounds the park's crisp, cobalt lake completely pulled me in. Even while still in my car, I was awestruck by the splendor that enveloped me.
After admiring the view from a distance, I arrived at the park's Nature Center to begin my journey. There was a group of school children running about, their joy clearly evident as they fished, climbed and learned hands-on about everything from archery to wild animals.

The park naturalist I met was completely in love with her job–and how could she not be? As she gave me the grand tour of the park, her smile spoke to the beauty that surrounded us. The first stop on our expedition was Pioneer Village, an authentic Quaker village first constructed in the 1800s. The historic area was simply breathtaking and completely unexpected. While walking around, I felt as if I was really a part of the era, as all the buildings had been maintained with a kind of love that still shows after more than a hundred years. I learned, too, about all the events the park hosts at the village each year–from maple syrup harvesting to haunted hayrides.
Our next destination was a spillover by the lake. Long ago, this area was dug out so that if the lake were ever to flood, the water would have somewhere to spill besides the neighboring towns. Today, the empty spillovers are fantastic spots for fossil hunting! I found at least three different types of fossils in a matter of 20 minutes. One of the park's most popular draws, fossil hunting makes for an amazing outing for families, friends, and even couples. Talk about a unique date idea!
Hundreds of miles of hiking trails connect every attraction in the park. I hiked a two mile long, clearly marked, picturesque route that led me to the park's newest and most boast-worthy feature: a swinging bridge that spans more than 100 feet across a stream! The view was spectacular, and I must admit to jumping up and down on the bridge as I swung back and forth.

After crossing the bridge and hiking a short distance more, I made it to one of the most stunning and best-kept secrets of Caesar Creek–the waterfall and natural swimming pool. This area is perfect for anyone who appreciates natural beauty, and is also a great spot for hikers to relax before making the trip back.

As my journey continued and we inched closer and closer to the lake, I also discovered enormous horse barns and horseback trails. I had barely wrapped my mind around all of the park's adventurous possibilities when we finally made it to the lake.
Both sprawling and easily accessible, the lake is a great destination for fishing, boating, canoeing, kayaking, stand-up paddle boarding and so much more. I got the opportunity to try paddle boarding for the first time, and it was an experience I will never forget! On top of everything, the lake also boasts a beautiful recreational beach!
From hiking to biking, swimming to horseback riding, there is truly no limit to the outdoor fun you'll find at Caesar Creek State Park.