Four Reasons You'll Love Fall in Warren County, Ohio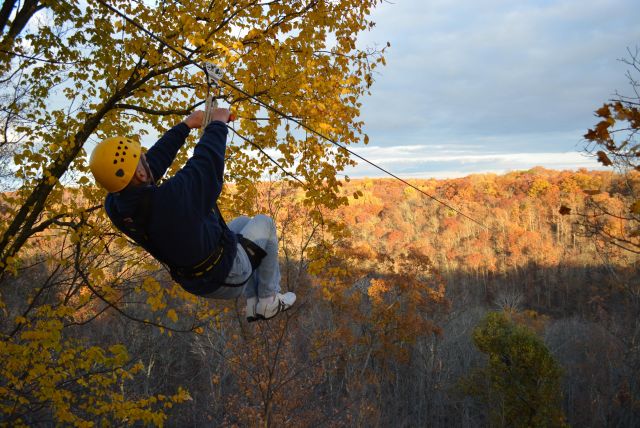 Blog by Scott Hutchinson

Southwest Ohio's action-packed summers may get all the glory for their water slide rides and theme park thrills, but here in Warren County, the fun carries right on into fall! Home to a slew of outdoor adventures, fun foodie festivals, fresh-air farm outings and eerie Halloween attractions Ohio's Largest Playground® makes autumn absolutely awesome.
Here's just a glimpse at what you'll find in Warren County this fall.

1. Foliage
Fresh, crisp air and colorful trees make autumn one of the most gorgeous times of year in the Buckeye State, and Warren County's wide array of outdoor attractions makes it an especially ideal destination for taking in that beauty. Kayak, canoe, raft or tube a quiet stretch of the Little Miami Scenic River, or bike, roller blade and hike along its banks, stopping for pictures or a picnic along the way. Explore 2,000 years of Native American history as you wind your way through miles of hiking trails and scenic overlooks at Fort Ancient Earthworks & Nature Preserve. Fly treetop to treetop 200 feet above a breathtaking valley at Ozone Zipline Adventures, or soar even higher to take in the breathtaking yellows, oranges and reds of an Ohio autumn on a hot air balloon tour with Gentle Breeze. Explore endless acres of forest and lake, and uncover ancient fossils at Caesar Creek State Park. No matter where your Warren County travels take you, outdoorsy fun awaits.
2. Festivals
From the kings and queens of old-time England to the sausage and sauerkraut of Ohio's German ancestors, the festivals of fall celebrate a bit of everything in Warren County. Cheer on armored jousters and laugh along with more than 100 era-inspired shows at the Ohio Renaissance Festival, or indulge in apple-inspired eats while you explore aisles of arts and crafts at the annual Country AppleFest. Shop for handmade trinkets and treasures while you sample local fare at Lebanon's Feast & Fall-y. Dig into sauerkraut pizza, donuts, ice cream and more crazy creations while shopping for handmade goods at more than 450 artisan-run booths at Waynesville's annual Ohio Sauerkraut Festival. No matter your tastes, there's a fest with your name on it in Warren County this fall.
3. Fun on the Farm
What's fall without hayrides and pumpkin patches? You'll find those, and much, much more at the farms, farmers' markets and vineyards of Warren County. Pick baskets of fresh produce or spoil yourself with a fresh-baked treat at Blooms & Berries, The Black Barn, Irons Fruit Farm or another of the county's homegrown hideaways. Head to Clarksville's Bonnybrook Farms for Clodhopper golf, giant slingshots, animal petting, fishing, wagon rides and more fresh-air fun. Looking for a grown-up getaway? Relax and unwind on the picturesque grounds of Morrow's Valley Vineyards Winery & Brewery. Ohio's second-largest vineyard, it's the proud producer of numerous award-winning wines and an impressive selection of made-in-house Cellar Dweller micro-brews. Whether you choose to swing by for a tasting or spend an entire evening wining and dining at one of its popular weekend cookouts, the vineyard makes for a perfect fall escape.
4. Frights
Finish off your autumn adventures with a trip to Warren County's spooky side! Known worldwide for its record-breaking roller coasters, Kings Island is also home to Halloween Haunt, one of the industry's eeriest fall attractions. Creepy shows, haunted mazes and hundreds of costumed characters ready to startle unsuspecting guests add an extra element of excitement to the park's already outstanding selection of thrills. Traveling with children who may not appreciate the ghosts, gouls and goblins? Swing them by the park's accompanying water park, Soak City, to celebrate the season with Snoopy, Charlie Brown and more of their favorite Peanuts characters at The Great Pumpkin Fest – Kings Island's more family-friendly Halloween event. Those up for more frightening festivities can trek just a short ways north to Brimstone Haunt, a haunted hayride and trail housed on the grounds of the Ohio Renaissance Festival, or listen and learn the truth behind some of Southwest Ohio's eeriest – and potentially true – ghost stories on a guided haunted walking tour in historic Waynesville, Ohio – widely regarded as the state's most haunted village.
Be it an outdoor adventure, a foodie festival, a spooky celebration or just those beautiful Midwestern colors you're after, Warren County has it all each and every fall.