Fun & Fit: 4 Great Finds for Active Adventurers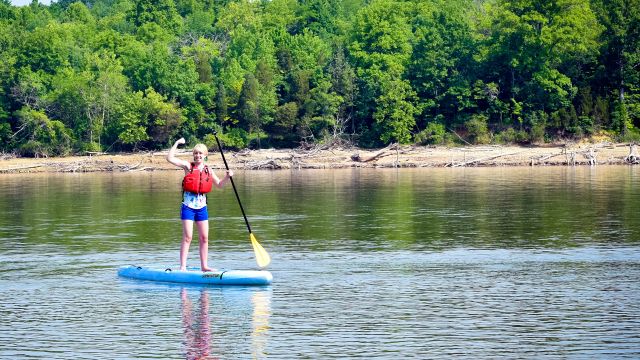 Blog by Scott Hutchinson

Out-of-town getaways may be ideal occasions for taking it easy, but that's not to say they can't also get your blood pumping! Those looking to stay active during their stay in Ohio's Largest Playground® will love these fun and fitness-friendly Warren County adventures.
Little Miami Scenic River
Home to multiple liveries, the Little Miami Scenic River invites visitors to canoe, kayak or raft their way up or down stream, discovering for themselves why the historic Warren County waterway has long been regarded as one of the top scenic rivers in the entire country. Excellent water quality, a gentle yet active current and abundant wildlife make it a perfect destination for both beginner outings and more adventurous river excursions.
Little Miami Scenic Bike Trail
Winding through woodlands, fields and charming towns, this 76-mile trail welcomes bikers, hikers, roller skaters and horseback riders to explore the banks of the Little Miami Scenic River. No matter your choice of transportation, it's a gorgeous and heart-healthy way to discover the beauty of Warren County's countryside.

Caesar Creek State Park
Featuring more than 43 miles of hiking trails, 65 species of plants and wild birds, and a beautiful 2,300-acre lake, Caesar Creek State Park offers visitors an endless array of outdoor recreation. Whether you choose to explore its sprawling beach, hike its wooded trails, take a bike or boat ride, ride a horse, hunt for fossils, fish or water ski, you're sure to enjoy a fun-filled, high-energy day at the park.
Ozone Zipline Adventures
One of the largest treetop canopy tours in the Midwest, Oregonia's Ozone Zipline Adventures ranks among the region's most unique and thrilling outdoor attractions. Stretching 200 feet above the Little Miami Scenic River, this sky-high tour treats visitors to simply incredible views, and is also quite a workout!