Haunted Warren County: Mysteries of Mason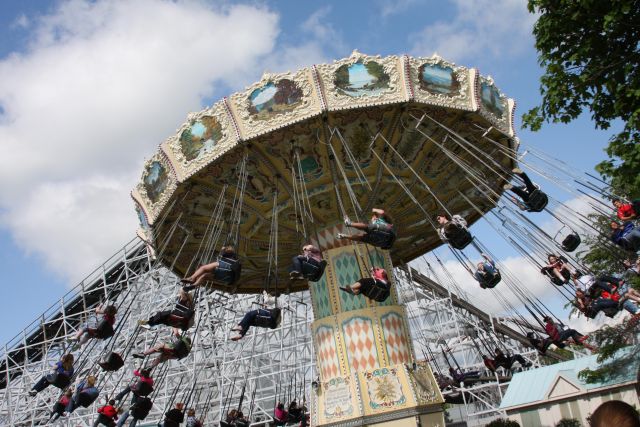 Blog by Jessica Lewis
A small cemetery tucked away in the corner of Kings Island Amusement Park's guest parking lot is a hotbed for eerie activity. Believed to date back as far as 1891, the grave site was originally created by farmer John D. Hoff as a family cemetery. After changing hands several times, the burial grounds were eventually purchased by the King family who bought the property to expand their Kings Mill Powder Company. When a man named Gary Wachs bought the land to create Kings Island in 1969, the cemetery plot came with the land acquisition. Rather than interfere with the burial grounds, Kings Island officials elected instead to simply build their amusement park around the small cemetery.
Today, legend has it that those same officials inadvertently paved over a grave when creating what is now the park's guest parking lot, resulting in an agitated spirit. According to stories, a little girl with blond hair and a blue dress, known as Sarah, can often be seen in the parking lot. While she's certainly spooky, she is also very playful and enjoys jumping out in front of cars heading toward the exit. While there is no evidence to prove the park paved over any graves, cemetery records do suggest the possibility. Since 1980, about 17 tombstones have gone missing from the cemetery, leading many to believe it may be a pattern. If in fact Sarah's tombstone is no longer in the cemetery, it's possible she is now forced to roam the area until her plot is rediscovered.
Not far from Kings Island, in the heart of Downtown Mason, another local legend looms at Banana Leaf Modern Thai. Long before it was ever a popular ethnic restaurant, the historic brick building was a private residence, and – as local records indicate – not just any residence. The gorgeous home on the corner of Downtown Mason's main drag was – and still is – the site of the only unsolved murder case in Mason's history. Rebecca McClung and her husband John moved into the brick building on Main Street in 1888 – but Rebecca never left.
On April 12, 1901, Rebecca was found near the home's fireplace at 2:30 a.m. by a seamstress who lived in the house with them. According to tales, she had been beaten to death with a piece of firewood. Rebecca's husband John claimed to have been in his barn at that time of the murder, and that blood found on his hands wasn't his wife's, but in fact his own, due to dry skin. Instead, he blamed her death on people working outside the home. The evidence, however, told another story, as there were no signs of a break in, yet bloody footsteps were discovered throughout the house. Two people testified they had heard John coming down the stairs prior to hearing "four bloodcurdling screams" from Rebecca, but John maintained his innocence, claiming in trial that he had no knowledge of the crime, and that even if he had committed the murder, he did not recall doing so. John was found not guilty, and no one was ever convicted of Rebecca's murder. John, much to the dismay of Rebecca's restless spirit, was buried next to his wife at nearby Rose Hill Cemetery.
Today, locals claim Rebecca never left the home on Main Street. In fact, a previous owner of the building once claimed to see Rebecca standing at the top of the home's steps, dressed in black and wearing a long skirt. Another eyewitness said that he was in the office working when he heard someone come in. Upon turning around, the worker saw a woman dressed in old-fashioned clothing who asked where Rebecca McClung had been buried. When he turned around again to look up her burial record, the woman disappeared. Finally, another of the home's previous owners recalls an instance where she had opened up several windows in the basement to air it out, before closing them at the end of the day. Upon returning to the home later, two of the windows were once again opened without explanation. Toppling chairs and slamming doors are also commonly reported in the home.
Are the legends of Mason's mysteries true? You'll just have to make a visit and decide for yourself!
Sources:
The Big Book of Ohio Ghost Stories by James Willis
Cincinnati Ghosts by Karen Laven