Lebanon, Ohio's Nearly Departed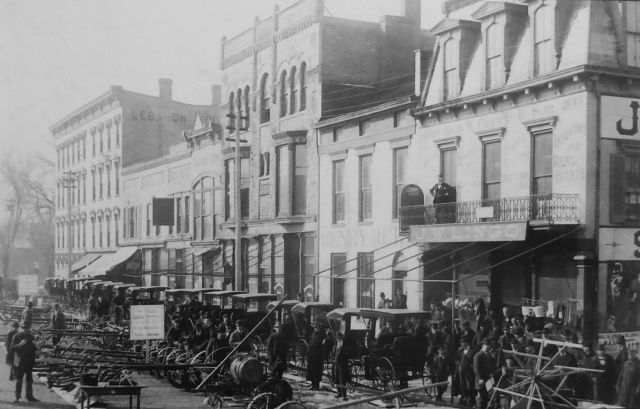 Blog by Mary Fessler
As a child growing up in Dayton, Ohio, I visited the nearby Golden Lamb Inn & Restaurant in Lebanon for special occasions.
Once I started working at the Warren County Convention & Visitors Bureau, my family and I became frequent diners at the restaurant. In getting to know the General Manager, I was surprised by a story he shared with me. It seems that a wedding party took place in one of the upstairs private dining areas in recent years. The bride and groom returned to the Golden Lamb with some photos taken in that room. They wondered if the staff could tell them who some of the people were that appeared in their photos. They weren't invited guests, and they appeared to be wearing old-fashioned attire. Thus began my fascination with exploring unexplained activity at this famous establishment.
I didn't have to work too hard to research this story – published accounts of ghostly encounters abound. Just a few years ago, popstar KE$HA even filmed an episode of her reality show at the Golden Lamb, the premise being that her staff/crew wanted to surprise her with a stay at a haunted inn. There seem to be three stories that are most oft repeated. Let's start with "Sarah's Room".
Sarah Stubbs lived with her sister and mother on the second floor of the Golden Lamb Inn. This living arrangement came about upon the passing of Sarah's father, as her uncle managed the Inn at the time. An exhibit room at today's Golden Lamb includes some of Sarah's possessions. Guests report hearing the sounds of a child in that room, stamping her feet as if having a tantrum. Staff members tell stories of toys being moved about the room, even though guests can only view the room via a glass partition. The "tantrum" is often attributed to Sarah Stubbs being frustrated that her room and possessions have been relocated within the Inn so many times over the years. But since Sarah Stubbs actually grew to adulthood and had children of her own, this story doesn't seem plausible in the paranormal norm.
Another possible identity for the young girl spirit is Eliza Clay, who reportedly died at the Inn in 1825 at the age of 12. The daughter of statesman Henry Clay, Eliza was traveling with her mother and father from Kentucky to Washington DC when she contracted a fever. She was buried in a local cemetery until the 1890's, when family moved her remains to their cemetery in Kentucky. Could Eliza also be the girl seen stroking the fur coat of a visitor by other guests? Or the girl seen running and giggling through the halls as if playing hide and seek?
Another popular apparition is that of a very tall, thin, "grey-looking" man. This seems to fit the description of Charles R. Sherman (father of William Tecumseh Sherman) who came to Lebanon in 1829 to administer the Bar exam to would-be attorneys. Before he could carry out this task, he died on the second floor of the Golden Lamb Inn. Mr. Sherman was indeed very tall, very thin, and had a grey complexion attributed to a heart ailment. When he died, he left behind a wife and 11 children. It is believed that Sherman feared he'd failed both at his fatherly duties and in the workplace, having never administered the exam, and was thus too unstable for his spirit to ever leave the inn following his death. Over the years, staff members have reported the smell of cigar smoke on the second floor, even when no guests are present. One meticulous guest even reported his slippers being moved from the position by the bed where he had carefully placed them before going to sleep – as if someone else had worn them.
Our final Golden Lamb story is that of Clement Vallandigham. Mr. Vallandigham was a lawyer who was theorizing about how a shooting crime might have occurred. Unfortunately, as he was testing out one such theory, he accidentally shot and killed himself. You can draw your own conclusions as to why he hasn't left the Inn!
Just across the street from The Golden Lamb is the Warren County Historical Society & Harmon Museum, formerly known as Harmon Hall. Staff members have oft reported the elevator in this building seeming to operate on its own accord, while others swear that the expression on a woman's face in a portrait changes. This woman, named Charity Sleddom, was a 19th century Warren County resident who died at the age of 22. Some claim to have seen her walking about the museum in a long black gown. Several paranormal groups have visited nearby Glendower Mansion, which is operated by the museum. Over the years, they have reported the sounds of a roaring fire when none is lit, the sounds of party guests, and numerous undefined sightings and EVPs (electronic voice phenomena).
Lebanon does offer "ghost tours" from time to time, but even if you can't catch one of those, I still urge anyone interested to explore this historic and charming town. Get to know the place that has attracted movie crews and ghost hunters, and get to know the people – past and present – who have called Lebanon home (some, longer than others).
Sources:
Tales from the Innside – Fred Compton
The Face in the Window: Haunting Ohio Tales – Chris Woodyard
Ghost Hunters Guide to Haunted Ohio – Chris Woodyard
Cincinnati Ghosts – Karen Laven
Ohioexploration.com
Warren County Historical Society