Party Like It's 1599: The Ohio Renaissance Festival is Back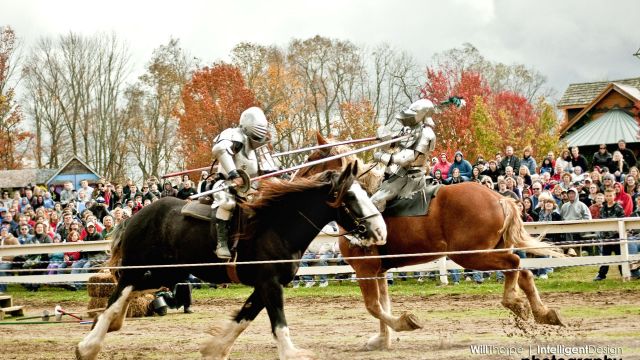 Blog by Stacha Yundt

Horses are neighing, mud is flying and folks are huzzah-ing, which can only mean one thing: the Ohio Renaissance Festival is back for another season.

Each year the hottest event of the 16th century comes to life at Renaissance Park, a 30-acre English village located near Waynesville and Harveysburg right here in Warren County. This year's festival kicked off Labor Day weekend and will return every weekend between now and Halloween.
Between certain major comic franchises, wizarding schools, time-traveling police boxes, journeys from the Shire and more, enthusiasm for what used to be called nerd culture has undergone a sort of renaissance of its own, and nowhere is that more clear (or celebrated) than at the Ohio Renaissance Festival. Every weekend, the crunch of armor on gravel fills the air as hundreds converge, often in costume, on Renaissance Park. Dressing the part isn't a requirement for guests but it's definitely encouraged. The Festival even has themed weekends for some of the most popular costume categories, including Fantasy Weekend, Pirate Weekend and Highlander Weekend (finally — a chance to break out that kilt in your closet!).
Park your car in the field (and trust me when I say festival staff have the parking system down to a science) and head for the castle to begin your adventure.
As you explore the village, keep an eye out for any number of photo opportunities. Not only can you snap a photo with cast members, but there are sets and even props to pose with — including a certain iron throne that's taking televisions by storm all over again.
There's an endless supply of things to do at the Ohio Renaissance Festival, but right at the top of the list is shopping. The streets of the festival grounds are lined with unique, one-of-a-kind shops filled to bursting with one-of-a-kind finds. Unlike the temporary tents found in most festivals, many of the shops are permanent structures and hold any number of treasures including swords and shields, elf ears, gowns, handcrafted art and even suits of armor. As an added bonus, a festival filled with creative performers and artists leads to some pretty great shop names — I mean, Damsel In This Dress? Inspired.
Scattered throughout the festival grounds are 17 stages where performers put on shows throughout the day. If you've ever wanted to see epics like Beowulf and Dante's Inferno performed while the actors fling mud from a pit, long-time festival favorite the Mudde Show will be a must-stop. Be sure to make the time to see the Kamikaze Fireflies, a two-person act that appeared on America's Got Talent and currently holds two records in the Guiness Book of World Records. Can you guess how many flaming hula hoops they can work at once? (Hint: it's about 19 more than I can).
If you don't run into the Queen and her royal entourage touring the festival grounds, you can find her overseeing the joust while you cheer on your knight. Other shows include Christophe the Insultor, the Cincinnati Barbarian, Washing Well Wenches, the popular Wheel of Death that made its Ohio Ren Fest debut last season, and much, much more. For the full show schedule, visit the festival's website. Every show is absolutely free to attend, but be sure to bring some cash along for your visit so that you can tip the performers afterwards.
But what's a festival without food? For many, the star of the cuisine is the massive turkey leg served at New World Knoll and at Rose & Crown, but other standout favorites include the Oh My! Dole Whip (served in a pineapple) and 1572 Roadhouse Bar-B-Q & 3 Fools Pub, a frequent nominee for the Best of Warren County. Pickle lovers should make a point of visiting the pickle cart for perfectly seasoned dill pickles. Find these restaurants and more here.
Just in case that isn't enough to satisfy your appetite, The Royal Feast is a 5-course meal that includes dessert and a drink (alcoholic or non) while you enjoy a show with your food. Learn more and get your tickets to this special event here.
The Ohio Renaissance Festival is truly a can't-miss event not just because of the fun things to do and unique souvenirs to buy, but because absolutely everyone is welcomed there, whether you're an enthusiastic cosplayer, a family looking for a fun way to spend a weekend, or a first-time guest curious to see what it's all about. No matter where you fall on the scale, as soon as you arrive at the festival you're going to feel right at home.

Let's get out and play, Ohio.