Picture Perfect Photo Opps in Warren County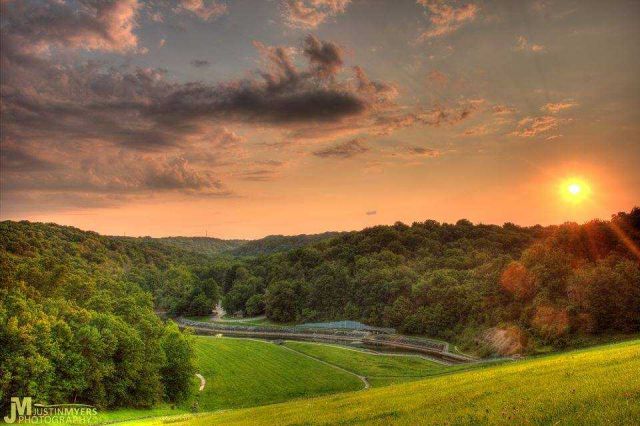 Blog by Jessica Lewis

One of the best ways to preserve vacation memories is through photography. Whether it's a breathtaking sunset or a goofy family photo, capturing special moments you'll remember forever is one of the greatest joys of any getaway. Planning a trip to Ohio's Largest Playground? Here are just a few of the best photo opportunities Warren County has to offer.
Caesar Creek State Park
Caesar Creek State Park in Waynesville is a fantastic place for both amateur and professional photographers alike to capture images of Southwest Ohio's breathtaking scenery. Home to beautiful waterfalls, winding hiking trails, a pristine lake, and a vast assortment of wildlife, photo opps aplenty await around every corner.
Ozone Zipline Adventures
One of the largest treetop canopy zip line tours in the Midwest, Oregonia's Ozone Zipline Adventures offers guests some of the most unique photo opportunities in all of Ohio. Where else can you snap shots of your friends and family flying 200 feet above a scenic river and valley?
Fort Ancient Earthworks & Nature Preserve
Nearby in Oregonia, Fort Ancient Earthworks & Nature Preserve offers incredible overlooks ideal for picturesque nature shots, as well as authentic Native American artifacts and monuments you simply cant't find anywhere else.
Kings Island Amusement and Water Park
On a clear day, you can see up to 18 miles from the observation deck of Kings Island's one-third scale replica of the world famous Eiffel Tower. Snap a family photo at eye-level with the park's sky-scraping coasters, or time your picture perfectly to capture one of its nightly firework displays!
Bonnybrook Farms
One of the more unique experiences in Ohio's Largest Playground, Clarksville's Bonnybrook Farms is a family-friendly farm with down-home dining, wagon rides, giant slingshots, and more farm-themed fun. Take a pic in a pumpkin patch, on-board a covered wagon, or in the petting zoo with a couple of furry friends!
Bird's-eye Views
Take in Southwest Ohio like never before from the sky-high viewpoint of a biplane, helicopter or hot air balloon.
Ohio Renaissance Festival
Each fall, this Harveysburg festival brings 16th century England back to life in Warren County. Live performances, costumed characters, unique era-inspired shops, games, children's rides, and food and drink all make this medieval marvel an absolutely awesome place for pictures.
Around the Playground
Almost everywhere you turn in Warren County, you'll find a scene worth snapping! From the historic streets of Springboro and Franklin to the bustling festivals of Lebanon and Waynesville, Ohio's Largest Playground is loaded with memory-making moments. Plan your visit today, and don't forget your camera!