Wintertime Hiking Through Scenic Warren County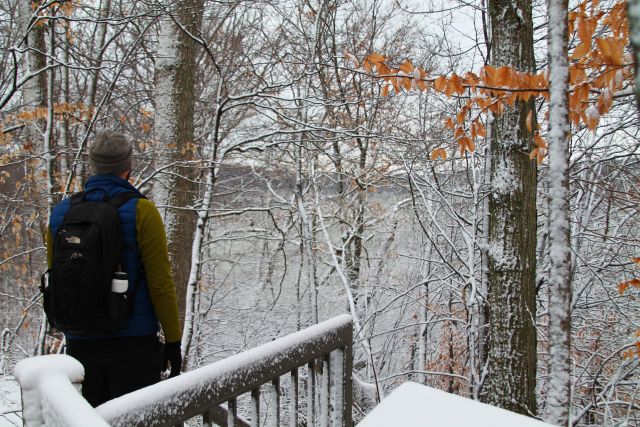 Blog by Jessica Lewis
Warren County, Ohio is home to more than 40,000 acres of land designated by the Ohio Department of Natural Resources, and it's all just waiting to be explored – even in the winter!
The more natural side of Ohio's Largest Playground is a wanderer's wonderland any time of the year, but wintertime trekkers are treated to especially unique views of the beauty and brilliance of Southwest Ohio. Here's where to head for some of the county's best winter hiking
Waynesville's Caesar Creek State Park offers curious explorers 3,741 acres of beautiful, wintry terrain. Highlights of the park include a 103-foot swinging bridge, scenic lake views, and natural rock gorges. Typically rushing during the fall, spring, and summer, the park's numerous waterfalls often freeze over during the winter, treating camera-savvy visitors to unique photography opportunities. Coated in white after each snowfall, the entire park takes on a beautiful new look and personality during the colder months–one well worth experiencing. Each year, a guided winter hike led by members of the park's staff takes guests past many of Caesar Creek's highlights (and also includes a hot, tasty meal at its Nature Center!). Cross-county skiing, snowshoeing, and mountain biking are also popular winter activities at the park.
Nearby, the Little Miami Scenic Bike Trail is a paved pathway that was once the site of an old railway. It runs alongside the banks of the beautiful Little Miami Scenic River for more than 70 miles of Warren County. Ranking among the region's most popular outdoor attractions for hikers, bikers, and outdoorsmen throughout the calendar year – it's particularly beautiful during the colder months, when its snow-covered twists and turns attract cross-country skiers!
Fort Ancient Earthworks & Nature Preserve in nearby Oregonia is yet another site for scenic winter hiking. Though its hours of operation are limited to weekends during the winter months, the site's numerous hiking trails spread throughout its prehistoric property, treating guests to up-close encounters with snow-covered Native American earthworks, and breathtaking views of Warren County from its popular North Overlook.
Other popular hiking areas in Ohio's Largest Playground include Hisey Park in Waynesville, Carmody Park in Franklin, Landen Deerfield Park in Maineville, Miller Ecological Park and Colonial Park in Lebanon, and Gulley Park in Clarksville, among many others.
No matter where your wintertime adventures take you in Warren County, it's important to remember that winter hiking presents its own unique challenges. Some trails may be closed due to impassable conditions, or may be slick with ice. Dress in layers, check out the weather forecast, and drink plenty of water – even if you aren't that thirsty!
Summer or winter, rain or shine, Ohio's Largest Playground is a hiker's haven. Plan your outdoor winter fun today!