10 Reasons We Can't Wait for 2022 in Warren County!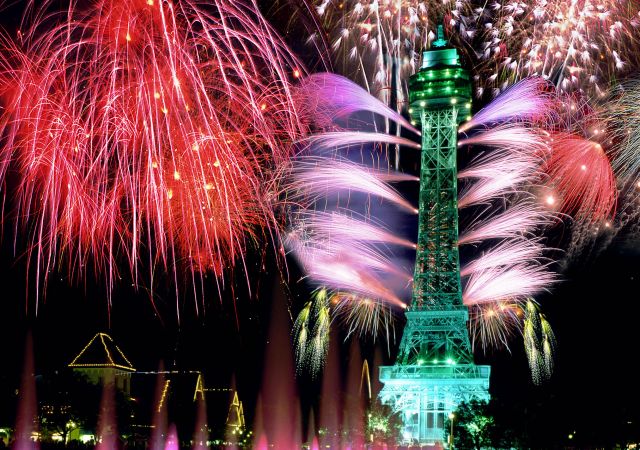 Blog by Scott Hutchinson
It may be hard to believe, but 2021 is officially in the books and we're shifting our sights to this new, exciting year ahead. While we sure did pack a whole lot of fun into 2021, the next 12 months are already shaping up to be even more memorable!
Hoping to work a Warren County getaway into your 2022 plans? Here are just a handful of the fun-filled highlights you can look forward to...
1) Kings Island's celebrating a BIG birthday!
Kings Island's turning 50 in 2022, and the award-winning amusement and waterpark will be marking the milestone with a slew of special celebrations. Repainted rides, limited time events, enhanced food offerings, new live shows and more exciting additions will make 2022 one of the park's best years yet!
2) Camp Cedar's still growing!
Camp Cedar made a big splash when it opened in the summer of '21, and the luxurious outdoorsy resort has even more in store for 2022! Brand new cabins, updated amenities and more exciting developments will make the already awesome establishment even more outstanding in the year ahead.
3) Ozone Zipline Adventures is back in action!
Speaking of awesome outdoor excitement, Ozone Zipline Adventures will be back and better than ever in 2022! Closed in '21 for upgrades, the high-flying favorite will feature a redesigned course when it reopens to visitors this coming spring!
4) Fresh new flavors are cooking up!
Warren County welcomed a wonderful array of new, delicious restaurants in 2021, and will have even more in store for food lovers in the months ahead! Come see what's cookin' in the award-winning kitchens of Ohio's Largest Playground!
5) The brewery boom's getting even bigger!
Warren County's craft brewing scene has exploded over the past few years, and it's only gaining more momentum heading into '22. Two new local breweries – Warped Wing Brewing Co. Mason and the Lebanon Brewing Company – will pour their first pints in the year ahead, and they can't wait to welcome craft brew connoisseurs from all over!
6) New hotels are on the way!
Every great vacation starts with a great place to stay, and Warren County is welcoming more outstanding new lodging options in 2022! Stay tuned to see which new hotels will be joining the county's already impressive collection of cozy and convenient options in the new year.
7) Familiar festival favorites promise year-round run!
Warren County is bustling with festival fun each and every year, and 2022 will be no exception! Waynesville's Ohio Sauerkraut Festival, The Ohio Renaissance Festival and Lebanon's Horse-Drawn Carriage Parade are just a few of the can't-miss highlights you'll find on this coming year's event calendar.
8) Sports of all sorts are coming to town!
As always, tennis' beloved Western & Southern Open will once again be played in Warren County this coming summer. That's not the only awesome sporting event coming to town in '22, though! The World Ultimate Club Championships (Ultimate Frisbee), the Pro Pickleball Association's Grand Slam Open and hundreds of other awesome athletic events are also making their way to Ohio's Largest Playground in the months ahead!
9) Super shows are taking the stage!
One of the nation's largest professional dinner theaters, Warren County's beloved La Comedia treats guests to a new slate of brilliant Broadway-style productions each and every year. Stacked with familiar favorites like Phantom, Westside Story, Beauty and the Beast and more, the theater's 2022 schedule is already creating quite a buzz!
10) Unforgettable adventures abound!
When you pack your bags for Warren County in 2022, be sure to bring your bucket list! Once-in-a-lifetime experiences are served up every day at Skydive Cincinnati, Gentle Breeze Hot Air Balloons, the Wright B. Flyer and more thrill-filled Warren County wonders.