Make a Splash this Summer in Ohio's Largest Playground!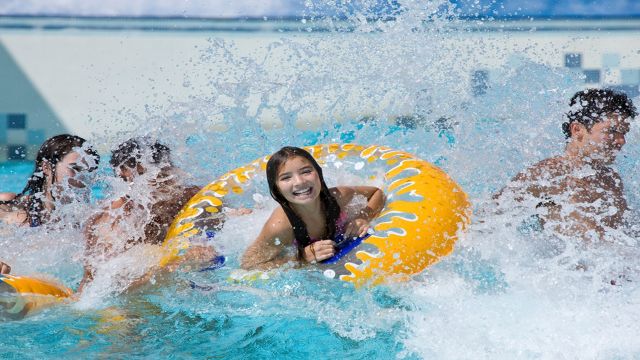 Blog by Scott Hutchinson
Summer may be one of the most beautiful and highly anticipated times of year in the Midwest, but let's just face the facts: for every Popsicle, parade and firework finale, there's a sweat-soaked shirt, a sunburned shoulder and a scalding-hot sedan to match. Fortunately, Ohio's steamy summer days can easily be cooled with a quick little road trip to Ohio's Largest Playground®!
Home to two award-winning water parks, a beautiful recreational river, a scenic, swim-friendly lake and more heat-beating highlights, it's no wonder Warren County's one of the coolest places to play when the weather warms up.

Here's where to head for splash-tastic fun this summer in Ohio's Largest Playground!
Kings Island's Soak City
Kings Island may be better known for its record-breaking roller coasters, but the award-winning amusement park is also home to one of the Midwest's wildest water parks. Boasting more than 50 water rides and attractions, including a 6-story, 5-slide standout in Tropical Plunge, Soak City is the perfect complement to KI's already awesome lineup of attractions. Ready for the best part? Admission to Soak City is included in the price of a Kings Island ticket, so guests get treated to a one-two punch of summertime fun!
Camp Cedar
Located just seconds from Kings Island's front gates, Camp Cedar puts an incredible, modern twist on the classic family camping trip. Spacious, design-forward cottages, fully connected RV sites, a fitness center, dining facilities and more amazing amenities make the resort a wonderful option for vacationers of all interests, while its two state-of-the-art swimming pools make it a particularly awesome pick for summertime travelers!
Great Wolf Lodge
For those reaaally looking to escape the summer sun (or just up for a twist on the classic water park experience), Great Wolf Lodge welcomes guests to swim, splash, dive and slide their way through its enormous, 84-degree indoor water park! Featuring a wave pool, tons of tube and body slides and a towering, wilderness-themed water playground, the lodge also has an outdoor pool area for those seeking a little more sunshine.
The Little Miami Scenic River
One of only 156 American rivers to be designated as a National Wild and Scenic River by congress, this gorgeous Warren County waterway is just as much fun as it is beautiful! Kayak, canoe, raft or tube both relaxing and rapid-filled stretches of the river, then fish, hike or bike along its tree-shaded banks. Refreshing yet riveting, it's the perfect blend of water-soaked fun and outdoor adventure. Morgan's and RiversEdge are just a few of the many awesome canoe and kayak outfitters in the area.
Caesar Creek State Park
Hidden in the heart of northern Warren County, Caesar Creek State Park invites nature-loving visitors to explore endless acres of scenic hiking trails, hunt for ancient fossils and spot an awesome array of native wildlife. For the purposes of this blog post though, it's all about the lake. Sporting a beautiful marina and long recreational beach, Caesar Creek Lake welcomes outdoor explorers to swim, boat and fish its waters, and is also a popular spot for family gatherings and waterside picnics.
Ready to work some Warren County fun into your summertime schedule? Plan a water-slidin', river-paddlin' getaway today right here on OhiosLargestPlayground.com!