Adventures Abound in Ohio's Largest Playground this Spring & Summer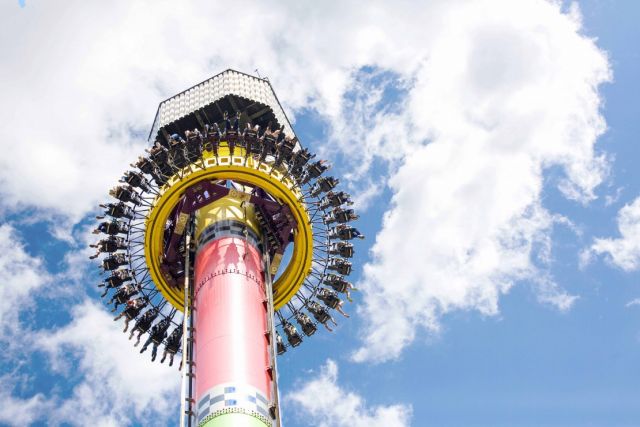 Conveniently cradled between Interstates 71 and 75 and just minutes from the hustle and bustle of both Cincinnati and Dayton sits a Southwest Ohio hotspot so popular among road trip travelers its affectionately known as Ohio's Largest Playground.
Home to an impressive array of family (and wallet)-friendly offerings ranging from high-thrill highlights to romantic, relaxing retreats, Warren County boasts all of the makings of an easy and affordable, yet equally unforgettable spring or summer escape.
So, where do you start on a Warren County weekend? Well, that all depends on what you're looking for...
If there's a coaster lover in your crew you simply can't miss Kings Island. Routinely ranked as one of the most incredible (and affordable) amusement parks in the entire world, it's home to a seemingly endless collection of rides and attractions, including a trio of record-crushing wonders in The Beast (the world's longest wooden roller coaster), Banshee (the world's longest inverted roller coaster) and Orion (a 300-foot behemoth that's one of only 7 "giga" roller coasters worldwide).
Soak City, Kings Island's accompanying water park is equally impressive, as its 50+ slides and attractions make it a staple of every steamy Ohio summer.
Located just minutes from the theme park, Great Wolf Lodge boasts an amazing indoor waterpark of its own, while Camp Cedar Outdoor Resort (one of Warren County's newest and most unique lodging offerings) treats guests to all the outdoorsy excitement of a classic family camping trip, but with the modern comforts of fully connected cottages and state-of-the-art amenities.
Speaking of the great outdoors, if it's fresh-air fun you're after, you'll find it an abundance around just about every corner in Ohio's Largest Playground.
Kayak, canoe, raft or tube a scenic, peaceful stretch the Little Miami River - one of the Midwest's premier recreational waterways. Pedal your way along 70+ miles of quiet, serene wilderness and through charming small towns on the Little Miami Bike Trail - one the longest paved trail networks in the United States. Soar high through the skies at Ozone Zipline Adventures – a heart-racing and educational treetop canopy zip tour – or soar to new heights and take in incredible panoramic views with the Gentle Breeze Hot Air Balloon Company. Birdwatch, boat, paddleboard or even forage for fossils at one of the Buckeye State's richest geological sites, Caesar Creek State Park.
Hikers and history buffs alike will want to be sure Fort Ancient Earthworks & Nature Preserve's on their Warren County agenda. Home to more than 2,000 years of Native American history (and mystery), it's an attraction so awe-inspiring it's on the fast track to join such world wonders as the Taj Mahal and the Egyptian pyramids on UNESCO's list of World Heritage sites.
Warren County's historical highlights don't stop there either. One of the county's northern-most communities - the City of Springboro - once served as a pivotal stop along the Underground Railroad, while the Golden Lamb in nearby Historic Downtown Lebanon is Ohio's oldest hotel and restaurant and has played host to 12 US Presidents, literary legends Charles Dickens and Mark Twain and numerous other American icons.
Just on the edge of Warren County and nearby Dayton, Wright B. Flyer Inc. offers once-in-a-lifetime rides in a replica of the Model B Airplane Ohio natives Wilbur and Orville Wright first took flight in so many years ago. Meanwhile in Lebanon, the LM&M Railroad treats visitors to nostalgic, seasonally themed train rides through the scenic Ohio countryside.
Any avid shoppers or art aficionados in your group can spend an afternoon exploring the endless aisles of the Village of Waynesville - Antique Capitol of the Midwest - then trek just a little ways north for an evening performance of a Broadway classic at Springboro's La Comedia, one of the largest remaining professional dinner theaters in the nation.
Sports fans of all sorts will find themselves just a matter of minutes from Cincinnati Reds, Bengals and FC Cincinnati games and – if visiting in August – can even catch the Western & Southern Open, one of the world's most prestigious and fan-friendly professional tennis tournaments.

Of course, no vacation could ever be complete without a sampling of your destination's local eats. Featuring more than 70 locally owned restaurants serving everything from All-American classics to organic, farm-to-table fare, Warren County's dining scene is bursting with delicious variety.
Craft brew connoisseurs can explore 13 (and counting!) unique local breweries and wineries, including Valley Vineyards (the second largest vineyard in Ohio), which even offers romantic, relaxing grill-your-own steak nights on its gorgeous, grape-laden grounds.
No matter where your Warren County travels take you, you're sure to find unforgettable fun. Learn more and plan your getaway (not far away) today right here on OhiosLargestPlayground.com.